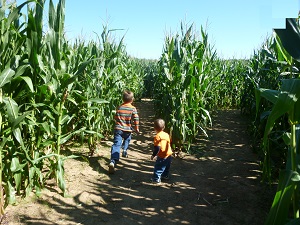 Looking for a local corn maze or hayride in Seattle Area? Scroll down this page and you will see the all of those in Seattle Area, sorted by county. Some are huge corn mazes with hayrides, pumpkins, corn cannons, inflatables and others are simple corn mazes with little else. Most also have loads of pumpkins to choose from. To really make it fun for your kids, look for those that have the extra activities, like a corn cannon, cow train, inflatables, farm animals, pumpkin patch or zip lines. There is usually a small fee for the mazes (of course, the more elaborate mazes tend to charge more. Hayrides are often free. A LWAYS call before you go to confirm whether they are open this year and any requirements, they don't always report changes to me, and many closed permanently due to the covid lockdowns!
And if you know of one I missed and want to add it or correct the information, please let me know!
New! We just went live with our latest website, FunFactoryTours.com - As they name implies, you can find a fun factory tour, including chocolate, automobiles, historical forts and sites, famous buildings, active Federal facilities like dams, a mint, NASA, even fun geology: like fossils and volcanic areas They're fun, inexpensive and educational! And for road trips and camping, see RoadTrippingAndCamping.com
There are affiliate links on this page. Read our disclosure policy to learn more.
Updates for November 2023
November: Corn mazes aren't open until late July or August - Same with Pumpkin patches. And if you are looking for a pumpkin patch, this website for pumpkin patches). You may also want to try the latest fun, Zombie Paintball, see this website!.
Corn mazes, sorted by county
Click on Resources above, if you need a county map
Island County
Dugualla Bay Farms - corn maze, pumpkins, hayrides
36699 SR 20, Oak Harbor, WA 98277. Phone: 360-679-2192. Open: October hours Sunday -Thursday 10 am to 6 pm, Friday and Saturday 10 am to 10 pm; the Pumpkin Patch and Corn Maze close 1 hour prior to closing time; Flashlight night in the corn maze tonight from 6 pm to 10 pm; Last person admitted at 9:30 pm, Don't forget your flashlight; Hayrides are Saturday and Sunday 12 pm to 4 pm and by appointment on weekdays. (ADDED: October 16, 2009, suggested by a visitor) (UPDATED: October 08, 2013, from their website)
A visitor writes on October 16, 2009: "I dont own this farm, but it's one off the list. It has a rather large corn maze and pumpkin patch. Easy access right off SR 20."
A visitor writes on October 16, 2009: They also have "Ice Cream and Homemade Waffle cones, Plants, Vegetables, Fruits, Jams and Rustic decorations for your home."
King County
(Be sure to see Pierce County - there are a number of farms, just across the border from King County)
Kitsap County
Kingston Corn Maze and Pumpkin Patch at Sunrise Hill Farm - corn maze, straw or hay bale maze, pumpkin patch-pick in the field, pumpkin patch- already gathered from the field, child-sized haybale maze, snacks and refreshment stand, restrooms, picnic area, birthday parties, school tours
11033 NE Tulin Road, Kingston, WA 98346. Phone: 360-297-2334. Alternate Phone: 360-509-5378. Email: info@sunrisehillfarm.org. Open: UPDATE: September 19, 2014: A visitor tells me they are now permanently closed. Picking updates: Click here for updates. Directions: Sunrise Hill Farm located at 11033 NE Tulin Road, just off of South Kingston Road. Check website for maps and directions. Click here for a map and directions. Kingston Corn Maze and Pumpkin Patch is open Labor Day Weekend to Halloween; Come out to Sunrise Hill Farm for family fun; Also enjoy the Hay Mountain, Kiddie Hay Maze, Pumpkin Slingers, and Snack Shack; Bring the family to the farm and stay all day. Payment: Cash, Check, Visa/MasterCard. Our U-Cut Flower Gardens are open every day from Dawn to Dusk. Come and pick armloads of gorgeous flowers for just $8.00 a bouquet. They are retiring and selling their farm. So sad to see them go! (UPDATED: September 19, 2014) (ADDED: September 02, 2009) (UPDATED: September 02, 2009) (UPDATED: October 07, 2013, from their website)
Minder Farm Corn Maze & Pumpkin Patch - 2023 permanently closed
1000 Gluds Pond ST NE, Bremerton, WA 98311. Phone: 360-620-3707. Open: UPDATE for 2023, Their page page is out of date and they have not been open since COVID started so I assume they have permanently closed; If you have any current information, please write me,September 17 to Friday, October 31, 2014, on Sunday from 12 PM to 6 PM, Saturday 10 AM to 8 PM, Wednesday, Thursday and Friday 04 PM to 08 PM, and Closed on Monday and Tuesday; the Maze closes at dusk unless there is a private party. Fundraising parties on Mondays and Tuesdays. Group and Corporate Discounts. Birthday Party Packages too. Call for Details Fundraising parties. Military Discount with ID. corn maze, pumpkin patch
A visitor writes on October 01, 2014: "Been around for a couple of years or so. Have not yet tried. "
Pheasant Fields Farm - corn maze, pumpkins, winery
13274 Clear Creek Road N.W., Silverdale, WA. Phone: 360-697-6224. Email: info@pheasantfields.com. Directions: Click here for a map and directions. Open: Call for hours through October. Harvest Celebration: October is pumpkin time at Pheasant Fields Farm. We have a variety of pumpkins of all shapes and sizes available for you. We offer farm tours daily for preschoolers, elementary ages and other groups of 5 children or more by appointment. Our cornfield maze is ready to explore! We invite you to come and visit our farm! Fall Hours Monday through Saturday, 10:00 am to 6:00 pm, Sunday, noon to 6:00 pm Things to Do at the Farm: Visit the farm store, shop for pumpkins (2013 Prices-Craving pumpkins: $.40 lb, Sugar Pie pumpkins: $.75 lb), walk the maze, see farm animals, see where vegetables grow. Apple Slingshot: Try your hand at the best slingshot in the Clear Creek Valley. Hit the target and make the cow bell ring! 3 apples for $1.00. (UPDATED: October 07, 2013, from their website) (UPDATED: February 27, 2014)
Scandia Farm and Garden - corn maze, pumpkins, beans, squash, apples, tomatoes, peppers, sunflowers
16326 Scandia Road, Poulsbo, WA. Phone: 360-697-9340. Call for hours. (UPDATED: October 07, 2013, from their website)
Snohomish County
Bailey's Vegetables - corn maze, Pumpkin Barn, pumpkins, and Play Area. Hay maze, rope swings, pirate's treasure, roping area, hay run, toy tractors, U-pick green beans, pickling cucumbers, beets, corn and flowers
12711 Springhetti Road, Snohomish, WA. Phone: 360-568-8826. Email: baileyveg@gmail.com. Open: weekends through
October. Directions: 2 miles south of Snohomish. From Highway 9 go east on Broadway, take first left onto Springhetti Road. 8:00am - 8:00pm daily. Onsite parking and restrooms available. (UPDATED: May 30, 2014, from their website)
Baylor Farm - Pumpkins, gourds, Indian corn, cornstalks and wagon rides
28511 Ben Howard Rd, Monroe, WA. Phone: 360-793-0822. Open 10am to 4pm daily. 2004 price for pumpkins is $.10/lb. Pre-schoolers are welcome. Call for group reservations. Fee is $1 and that includes a pumpkin.
Biringer's Black Crow Pumkins and Corn Maze - corn maze, pumpkins, pumpkins for sale in the shop or farmstand, pumpkin patch-pick in the field, pumpkin patch- already gathered from the field, child-sized haybale maze, wagon rides, concessions / refreshment stand, porta-potties, picnic area, school tours
2431 highway 530, Arlington, WA 98223. Phone: 360-435-5616. Email: biringersblackcrow@outlook.com. Open: September 28 to October 31. Click here for current open hours, days and dates. Directions: From I5, Take exit 208 for State highway 530 toward Arlington/​Darrington, Go East on State highway 530 E/​WA-530, Destination will be on the left. Click here for a map and directions. Corn Maze open September 28 to October 31. Payment: Cash, Debit cards, Visa/MasterCard. You dig potatoes and pet friendly. (UPDATED: October 07, 2013) (UPDATED: October 08, 2012) (UPDATED: November 15, 2010) (ADDED: October 15, 2008)
Bob's Corn - Corn Maze, pumpkin patch-pick in the field, hayrides, cow train, pumpkins, bonfires, gladiolus, dig your own potatoes, Pony Rides, Face Painting
10917 Elliott Road, Snohomish. Phone: 360-668-3043. Directions: 2 miles south of Snohomish. From Highway 9 go east on Broadway for 2 miles, left onto Elliott Road, farm is one mile on right. Open: mid-July through October call for hours. Onsite par, WA. Phone: and restrooms available. A free hayride takes you out to the middle of our 20-acre Pumpkin Patch, where you'll find over 50 varieties of pumpkins, from giant, 200 pounders, to little mini pumpkins, with all sizes and colors in between. Your family will love every visit to the country store and Bob's Corn Maze and Pumpkin Patch in Snohomish, Washington, just north east of Seattle. We also have our Famous Apple Doughnuts, Kids Corn Maze, Trike Track, Corn Cannon, Play Ground, Firepits/Bonfires, Country Store, Spookley Story Trail Corn Maze, Hot Roasted Corn (Friday & Sat only), Hot food concession (Friday & Sat only), Lew's BBQ (Sunday only). Check Our Events Page for Times, Dates, & DetailsThe Corn Maze now twists and winds through more than 10 acres of tall corn, and sometimes you'll begin to think there is no way out but up! Our maze is family friendly -no goblins or ghosts here! This year, we have 15 Firepits out in the corn maze that you can reserve for your group. Talk about a fun evening. (UPDATED: July 13, 2009) (UPDATED: October 07, 2013, from their website)
Carleton Farm - corn maze, pumpkin patch-pick in the field, pumpkin patch- already gathered from the field, Fall festival, train rides, haunted corn maze, tractor-pulled hay rides, farm market, restrooms, farm animals, birthday parties, school tours
630 Sunnyside Blvd SE, Lake Stevens, WA 98258. Phone: 425-334-2297. Open: See our website for current hours. Click here for current open hours, days and dates. Directions: Click here for a map and directions. Payment: Cash, Visa/MasterCard. Click here for our Facebook page. Real, working farm growing fresh produce. Locally famous sweet corn and cucumbers! Farm Market with fresh fruits, pies, dressings and marinades. In October: corn maze, pumpkin patch, and Hayrides. October weekends include kids animal train, pumpkin cannon, cider and pumpkin pie. Our night "Haunted Swamp" corn maze is lots of Halloween fun. September 28 - October 31, 2013
Welcome to Carleton Farm. We're a small family farm in the lower Snohomish Valley near Everett with acres of corn maze, pumpkins,and farm store. More Fall Fun! Weekends: pumpkin cannon, hayrides, zip swing, slides and other Fall Activities
No general admission charge. Just pay for what you like.
Parking is free. (UPDATED: September 20, 2010) (UPDATED: October 07, 2013, from their website)
Charlie Brown Corn Maze and Pumpkin Patch festival - corn maze, pumpkin festival and more (see Foster's further down this page)
Charlie's Organic Gardens - ORGANIC, corn maze, pumpkins,hayride
15001 Old Snohomish Rd, Snohomish, WA. Phone: 360-794-8434. Open: Daily, from 10am to 7pm. Directions: One mile west of Main Street exit off Hwy 522 in Monroe on Old Snohomish-Monroe Rd. Fall Harvest Days for a hay ride, trip through our corn maze, live music, and a store filled with many varieties of organic corn, pumpkins, and squash. In late Nov., look for our WA state grown Christmas trees! (UPDATED: October 07, 2013, from their website)
Craven Farm Inc. - corn maze, pumpkin patch-pick in the field, pumpkin patch- already gathered from the field, Fall festival, tractor-pulled hay rides, gift shop, snacks and refreshment stand, restrooms, picnic area, face painting, farm animals, birthday parties, weddings and wedding parties, school tours
13817 Short School Rd, Snohomish, WA 98290. Phone: 360-568-2601. Email: visitafarm@verizon.net. Open: The last Saturday of September through October daily 9:30 to dark. Click here for current open hours, days and dates. Pumpkin updates: Click here for updates. Directions: From Snohomish take Lincoln Street 2 miles to Y. Go right and follow the Craven Farm signs 1 mile. Click here for a map and directions. The last Saturday of September through October daily 9:30 to dark. Payment: Cash, Debit cards, Visa/MasterCard. We no longer have any kind of berries. In the summer we host weddings and all types of gatherings. Last Saturday of June our Annual Antique "Tailgate" Sale. We no longer have any kind of berries. In the summer we host weddings and all types of gatherings. Last Saturday of June our Annual Antique "Tailgate" Sale. Free parking and entrance to farm, kettle corn, espresso, play area for the children, pumpkin slinger, ATM. No pets please. (UPDATED: March 21, 2010)
A visitor writes on October 15, 2009: "Great for kids and buying antiques."

Foster's Pumpkin Farm

- 2023 permanently closed
5818 SR 530 NE , Arlington, WA 98223. Phone: 360-435-5095. Fax: . Email: fosters@fosterscornmaze.com. UPDATE for 2023: They are permanently closedd your own garbage bags, etc to haul your pumpkins home. No dogs allowed on the farm. (UPDATED: October 07, 2013, from their website)
Ninety Farms - corn maze, pumpkins
25322 70th Ave NE, Arlington. WA. Phone: 360-435-9304. Directions: From I-5 take exit 208. Go east on Hwy 530 for 3.8 miles to Hwy 9, turn left. Go 2 miles and take right onto 256th Street, take left on 67th Avenue, right on 258th Street, right on 70th to end. No public restrooms.
Stocker Farms Family Adventure Farm- At the Big Red Barn - corn maze, Zombie paintball, pumpkins, pumpkin patch-pick in the field, Fall festival, cow train / barrel train rides, tractor-pulled hay rides, haunted house, haunted trail, gift shop, concessions / refreshment stand, porta-potties, picnic area, face painting, jumping pillow, farm animals, birthday parties, weddings and wedding parties, school tours
8705 Marsh Rd, Snohomish, WA 98296. Phone: 360-568-7391. Email: info@stockerfarms.com. Open: Tuesday - Sunday 10:00am to 6:00pm (usually open the last weekend in September - October) Haunted Attractions - please visit website for details and hours. Click here for current open hours, days and dates. Directions: Click here for a map and directions. Payment: Cash, Check, Debit cards, Visa/MasterCard, Discover, AmEx. Click here for our Facebook page. All year long, we prepare for your Fall Family Fun (located at 8705 Marsh Road in Snohomish) with pumpkin patches, pumpkin park, corn maze, and fall night time activities. Come see us in October for "Family fun they'll never forget." Find us on Facebook!. (UPDATED: January 21, 2016) (UPDATED: September 04, 2013)
A visitor writes on November 27, 2009: "We love it there! The folks running it are always very warm and friendly, the products are amazing, and I can't wait to add them as our new Christmas tree destination! And across the street is a fabulous farm stand full of delicious offerings from their farm. "
The Farm at Swans Trail - corn maze, pumpkins, school tours PYO apples, pig races, duck races, school tours, petting zoo, weddings, corporate events, birthday parties
7301 Rivershore Rd, Snohomish, WA. Phone: 425-334-4124. Email: thefarm1@gte.net. Directions: click here for directions. Open: late September thru October 31 daily 10 am to 6 pm. (in 2008). There are many aspects of The Farm that make it special. From its awe inspiring Washington State Corn Maze and incredible Pumpkin Patch, to the happy memories of the many guests who have visited over the years. Plan to visit this year! Click here for a map! The month of October is when fun at The Farm is in full bloom, everything is open to everyone, and we have a ton of Fall Festival activities that are fun for the whole family. The following are all free: Parking, Wagon Rides, Petting Farm, Live Duck Races, Four Little Pigs Show —Farmer Ben's trained pigs play out the famous three-little pigs fable.
Comments from a Blake on March 11, 2013: "I visited the farm and Farmer Bob; and they're a really nice, fun bunch. His pig show is not to be missed! Corn maze is fun. Dalhia sale one weekend in April is a big hit. Picking strawberries in 2 days, we'll see!"
Thomas Family Farm - corn maze, pumpkins for sale in the shop or farmstand, pumpkin patch-pick in the field, Fall festival, zombie paintball, haunted house, haunted trail, cow train / barrel train rides, kiddie (mini) corn maze, child-sized haybale maze, tractor-pulled hay rides, haunted house, haunted rides, Honey from hives on the farm, gift shop, concessions / refreshment stand, porta-potties, picnic area, face painting, birthday parties, school tours
9010 Marsh Rd, Snohomish, WA 98296. Phone: (360) 568-6945. Fax: (360) 568-5611. Email: info@ThomasFamilyFarm.com. Open: Thursday and Sunday 10am to 10pm; Saturday and Sunday 10am to 12am; September 27th to October 31st. Click here for current open hours, days and dates. Directions: Click here for a map and directions. Payment: Cash, Debit cards, Visa/MasterCard. Click here for our Facebook page. During the day we have Gem Mining, Monster Truck rides, and mounted paintball gun shooting gallery. After 7pm we have "Zombie Safari" paintball hayrides and the "Nightmare on 9" haunted house. Kid friendly days at the haunted house: October 13th, 20th, & 27th 3pm - 5pm. (ADDED: September 20, 2012)