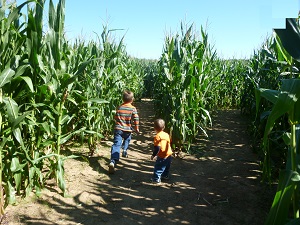 Looking for a local corn maze or hayride in Northeastern Washington State? Scroll down this page and you will see the all of those in Northeastern Washington State, sorted by county. Some are huge corn mazes with hayrides, pumpkins, corn cannons, inflatables and others are simple corn mazes with little else. Most also have loads of pumpkins to choose from. To really make it fun for your kids, look for those that have the extra activities, like a corn cannon, cow train, inflatables, farm animals, pumpkin patch or zip lines. There is usually a small fee for the mazes (of course, the more elaborate mazes tend to charge more. Hayrides are often free. A LWAYS call before you go to confirm whether they are open this year and any requirements, they don't always report changes to me, and many closed permanently due to the covid lockdowns!
And if you know of one I missed and want to add it or correct the information, please let me know!
New! We just went live with our latest website, FunFactoryTours.com - As they name implies, you can find a fun factory tour, including chocolate, automobiles, historical forts and sites, famous buildings, active Federal facilities like dams, a mint, NASA, even fun geology: like fossils and volcanic areas They're fun, inexpensive and educational! And for road trips and camping, see RoadTrippingAndCamping.com
There are affiliate links on this page. Read our disclosure policy to learn more.
Updates for November 2023
November: Corn mazes aren't open until late July or August - Same with Pumpkin patches. And if you are looking for a pumpkin patch, this website for pumpkin patches). You may also want to try the latest fun, Zombie Paintball, see this website!.
Corn mazes, sorted by county
Click on Resources above, if you need a county map
Ferry County
Lincoln County
Okanogan County
Pend Oreille County
Spokane County
Carver Farms - corn maze, pumpkins, pumpkin patch-pick in the field, tractor-pulled hay rides, Honey from hives on the farm, restrooms, picnic area, school tours
9105 N. Idaho Road, Newman Lake, WA 99025. Phone: 509-226-3602. Email: scarvier@yahoo.com. Open: See our website for current hours. Directions: Click here for a map and directions. Payment: Cash, Check. You pick gladiolus in August and September. You pick popcorn in October. Direction sheet provided on drying and popping. Click here for our Facebook page. (UPDATED: January 10, 2011) (UPDATED: October 17, 2013, from their website)
Knapp's - corn maze, pumpkins, pumpkin patch-pick in the field, pumpkin patch- already gathered from the field, child-sized haybale maze, restrooms, picnic area, farm animals
7722 E Ballard Rd, Colbert, WA 99005. Phone: (509) 238-2640. Email: knapps@windwireless.net. Open: As fruit ripens. Directions: North of Spokane on the West side of Green Bluff. For a map to our farm, click here. Strawberries June to July, Tayberries July, Black Raspberries July, Summer Red Raspberries July, Fall Red and Yellow Raspberries September, Blackberries August and September, Pumpkins, Winter Squash, Fall Farm Fun October. Payment: Cash, only. (UPDATED: March 23, 2009)
Siemers Farm, LLC - corn maze, train rides, pumpkins and more
11125 E Day Mt Spokane Rd, Mead, WA, 99021. Phone: 509-238-6242. Open: U-Pick Strawberries and U-Pick Peaches: 7-3 open when fruit is ripe; Sep. 20th-October 31: 10-6 Closed Wednesdays. Offer a Corn Maze, a HUGE one. Has a 3 story Castle in the middle of it. 2 trains, little toot and big toot. In the middle and throughout the corn maze, they have "safari" animals, people dressed in full size suits, etc...gorillas and what-not. Huge inflatable slide. Tractor Pull TONS of pumpkins....25 cents a pound. $2 for train ride $4 - $6 for Corn maze Tractor free Slide, 4 trips for a buck ON Fridays or Mondays, they have a tour, $4 for the tour lets you do everything and you get a little pumpkin.
Stevens County
Colville Corn Maze & Pumpkin Patch - corn maze, pumpkin patch-pick in the field, haunted corn maze, pumpkin patch- already gathered from the field, sweet corn, & squash
73 Oakshott Road, Colville, WA 99114. Phone: (509) 684-6751. Email: ggknight1@yahoo.com. Open: Monday-Thursday, 4-dark. Friday, 4-9. Saturday & Sunday, 11-9. September 22 through Halloween. Click here for current open hours, days and dates. Directions: Drive north on highway 395 from Spokane, approximately 72 miles to the center of Colville. Turn west on 1st street and drive 1.5 miles. 1st street will turn into Oakshott Road. Click here for a map and directions. Payment: Cash, Check. Click here for our Facebook page. (ADDED: September 23, 2009) (UPDATED: September 07, 2011) (UPDATED: September 05, 2012)