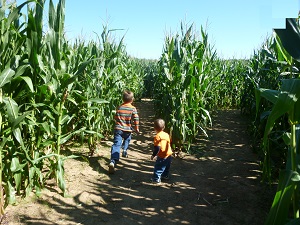 Looking for a local corn maze or hayride in Pittsburgh and southwestern Pennsylvania? Scroll down this page and you will see the all of those in Pittsburgh and southwestern Pennsylvania, sorted by county. Some are huge corn mazes with hayrides, pumpkins, corn cannons, inflatables and others are simple corn mazes with little else. Most also have loads of pumpkins to choose from. To really make it fun for your kids, look for those that have the extra activities, like a corn cannon, cow train, inflatables, farm animals, pumpkin patch or zip lines. There is usually a small fee for the mazes (of course, the more elaborate mazes tend to charge more. Hayrides are often free. A LWAYS call before you go to confirm whether they are open this year and any requirements, they don't always report changes to me, and many closed permanently due to the covid lockdowns!
And if you know of one I missed and want to add it or correct the information, please let me know!
New! We just went live with our latest website, FunFactoryTours.com - As they name implies, you can find a fun factory tour, including chocolate, automobiles, historical forts and sites, famous buildings, active Federal facilities like dams, a mint, NASA, even fun geology: like fossils and volcanic areas They're fun, inexpensive and educational! And for road trips and camping, see RoadTrippingAndCamping.com
There are affiliate links on this page. Read our disclosure policy to learn more.
Updates for November 2023
November: Corn mazes aren't open until late July or August - Same with Pumpkin patches. And if you are looking for a pumpkin patch, this website for pumpkin patches). You may also want to try the latest fun, Zombie Paintball, see this website!.
Corn mazes, sorted by county
Click on Resources above, if you need a county map
Allegheny County
Janoski's Pumpkinland - corn maze, pumpkins, more, corn shocks, straw, Indian corn, gourds, mums and pumpkins
At Janoski's Farm and Greenhouse, 1714 State Route 30, Clinton, PA. Phone: 724-899-3438. Email: info@janoskis.com Open Saturday & Sunday 10am to 5pm (Gate closes at 4pm); Held each weekend from the last weekend in September through October. Phone: (724) 899-3438. Directions: west of Pittsburgh; Pumpkinland is a separate area located to the left and behind Janoski's farm market. Admission covers the following activities: A tractor-drawn hayride out to the Pumpkin Patch to select your own pumpkin(s). Pumpkins sold separately for $0.25 per pound. Pony Rides and Petting Zoo. Cornfield Maze and Haunted Barn. Pumpkin painting and face painting. (pumpkins sold separatelyPicnic Area - bring your own lunch or stop by the very reasonably priced 4H concession stand
for hotdogs, hamburgers, drinks, cotton candy, caramel apples and more. For more info about events or group pricing call
A visitors says on October 13, 2008: "price of pumpkins is .40 per pound" (UPDATED: October 13, 2008) "
Shenot Farm - corn maze, pumpkins for sale in the shop or farmstand, pumpkin patch-pick in the field, pumpkin patch- already gathered from the field, we also have pie pumpkins, tractor-pulled hay rides, haunted rides, farm market, concessions / refreshment stand, porta-potties
3754 Wexford Ruin Road, Wexford, PA 15090. Phone: 724-935-2542. Alternate Phone: 724-321-3215. Fax: 724-934-5942. Email: farmmkt@zoominternet.net. Open: Market Hours Monday to Friday from 9 am to 7 pm; Saturday and Sunday 9 am to 6 pm Hayride to the Pumpkin Patch and Corn Maze Saturday and Sunday 11 am to 5 pm Haunted Hayride Friday and Saturday 7:30 pm to 10:30 pm. Directions: Interstate 79 to the Wexford Exit. At the end of the exit ramp go East on Route 910. Travel one mile to Wexford Run Road. Turn left onto Wexford Run. The farm is 1/4 on the left side. Click here for a map and directions. Payment: Visa/MasterCard, Discover. Come on a Free Hayride to our pumpkin patch to pick out the perfect pumpkin for your front porch. Jack-O-Lanterns are available from late September through November. (UPDATED: October 01, 2015)
Soergel Orchards - wagon rides, hay rides, pony rides, Pick your own pumpkins,
2573 Brandt School Rd, Wexford, PA, 15237. Phone: 724-935-1743. Email us at: applepie1@earthlink.net. Soergels is open year round. There is a market, bakery, deli, garden center, farm animals, mining sluice. Nearly one weekend each month there is a festival or special event. On Sundays in August there are Corn Roasts, October brings harvest festivals each weekend with hayrides, pony rides, horse drawn wagon rides, straw tunnel, moonwalk, duck pond, loads of festival food and more.. (UPDATED: March 31, 2010)
Trax Farms - corn maze, pumpkins, train ride, Pony Rides, Hay Rides, Petting Zoo
528 Trax Road Finleyville, PA, 15332. Phone: 412-835-3246. Open: Hours and directions. Activities: Entire Month of October - Fall Harvest Festival Share the harvest season with us! During the month of October, enjoy the sights, scents and sounds of fall with our cornstalk maze, play area for children, and fall decorations created right here at the farm. Come and climb over piles of pumpkins at the market or take the family out to the fields and wander through acres of pumpkins. On weekends in October we will have a wonderful harvest of food to eat, Kettle Korn, Rainbow Express train ride, Pony Rides, Hay Rides, Cornfield Maze, Petting Zoo, and much more. Saturday 29 - Customer Halloween Party Enjoy a safe and warm evening at Trax Farms. Come in your favorite costume and trick or treat through our many departments. The garden cafe will be open selling refreshments. There will be hayrides available too! November: Friday, Saturday & Sunday 11, 12 & 13 - Christmas Open House - Visit our Christmas Shop filled with decorated theme trees and many holiday decorating ideas. The Deli & Bakery will have samplings of homemade cookies, meats & cheeses, breads, dips, homemade cheeseball and much more! Come and make a cookie house for the holiday (fee charged). Special holiday savings during the Christmas Open House. Saturday & Sunday 19 & 20 - Holiday Cooking Demo Don't know how to stuff and roast a turkey? come and learn how to prepare a turkey and the different Thanksgiving dishes like, sweet potato casserole, fresh cranberry relish and homemade pumpkin pie. Saturday 26 - Light Up Night come help us start off the Christmas season! Browse through our many Christmas displays. There will be many Christmas activities for the whole family.
A visitor writes on October 08, 2012: "regarding Trax farms on western PA pumpkin patches and more website: VERY EXPENSIVE!! Lots of activities, but you pay for everything. $8 per adult hayride, $6 per child hayride, $6 for climbing wall, $5 for child tattoo, $4 for pony ride, and the list goes on and on. Plan to spend a lot. Also, no atm and cash back only with $50 purchase at market."
NOTE from a visitor (October 2, 2006): "Trax Farms is charging $8 per person just to ride their tractor to the pumpkin patch. That does not include the pumpkin! And, everything else in their festival is "ala carte". They charge a family of six $52 just to enter their pumpkin patch, and they do not allow you to walk or drive to the patch yourself. "
Triple B Farms - corn maze, pumpkins, Pick-your-own apples, pumpkins for sale in the shop or farmstand, pumpkin patch-pick in the field, pumpkin patch- already gathered from the field, Fall festival, kiddie (mini) corn maze, goat walk, we also have pie pumpkins, tractor-pulled hay rides, Bounce house, haunted house, Honey from hives on the farm, Fresh eggs, gift shop, concessions / refreshment stand, porta-potties, Bouncy castle, petting zoo, farm animals, birthday parties, school tours
823 Berry Lane, Monongahela, PA 15063. Phone: 724-258-3557. Fax: 724-258-7899. Email: info@triplebfarms.com. Open: Strawberry Season (approximately Memorial Day, call first) thru October 31st, Halloween Monday to Friday 10am to 6pm Saturday and Sunday 10am to 5pm. Click here for current open hours, days and dates. Picking updates: Click here for updates. Directions: Click here for a map and directions. Strawberries: end of May to mid-June Raspberries: end of June to mid-July Peaches: August Blackberries: August Apples: September and October Pumpkins: end of September to October. Payment: Cash, Debit cards, Visa/MasterCard, Discover, WIC Vouchers. Click here for our Facebook page. (ADDED: August 17, 2011)
Armstrong County
Renshaw Farms - corn maze, pumpkin patch-pick in the field, pumpkin patch- already gathered from the field, tractor-pulled hay rides, wagon rides, snacks and refreshment stand, face painting, farm animals, birthday parties, weddings and wedding parties
314 Ford City Road, Freeport, PA 16229. Phone: 724-295-3950. Open: Saturday and Sunday October 3 pm to 4, 10 am to 11, 17 am to 18, 24 pm to 25 from 11 am to 6 pm. Directions: From PA-28 take Exit 16 Millerstown/Freeport Take Bakerstown Road (past BP) to Freeport Road. Turn Left at Freeport Road; at the Y stay right continue on to Second Street. Turn Left at High Street/PA-128; continue through Freeport on PA-128 (about 2 miles). Turn Right at Ford City Road. Farm is about 3 miles on Ford City Road on the Right. Click here for a map and directions. Payment: Cash, only. Pumpkin Fest is held Saturdays and Sundays in October! Come and enjoy family activities including hayrides, face painting, story telling and more! Pick out pumpkins, corn stalks, and delicious treats. Renshaw Farms is excited to hold its annual Pumpkin Festival in Freeport, Pa. We are happy to be a member of the Spookley the Square Pumpkin Program and to help raise awareness about Bullying. This program is based off the Spookely the Square Pumpkin Book and Spookley is the spokes person for this program.
Admission Includes: Hayrides, Corn Pit, Corn maze , Spookley the Square Pumpkin story book in our Corn Maze, Bounce Pillow , Giant Rope Spider Web, Animal park, Giant Roll Chamber Race , Kids Corral Horse Races , Hay Bale Mountain, Hay Bale Slides, 9 Hole Mini Golf, Tunnel Crawl, Tractor Tire Mountain, Zip Lines , Fall fun games, Fall photo booth and Face Cutouts, Giant Picture Frame for Family Photos, Tractor Pedal Track , The Barn Yard Playground Area.
Added Attractions NOT included in admission: Pumpkin Sling Shots, Pumpkin Cannon, Animal Food.
Pumpkins Priced Individually and not included in admission ticket
Fall Foods Available in our Cafeteria Style Restaurant and outside concession
Check out our Country Store for all your Fall Needs!
Field Trips and Group Trips available at the Farm! (UPDATED: October 20, 2023, JBS)
Beaver County
Butler County
Cheeseman Farm - haunted corn maze, straw or hay bale maze, tractor-pulled hay rides, spumpkins, pumpkin patch-pick in the field, pumpkin patch- already gathered from the field, nacks and refreshment stand, restrooms, farm animals, weddings and wedding parties
226 Cheeseman Rd, Portesville, PA 16051. Phone: 724-368-3233. Email: Betsy@cheesemanfarm.com. And for a map to our farm, click here. Crops are usually available in September, October. Open: Call or check the web site for times of operation. Haunted Hayride and Pumpkins from Mid September throughout October; Thursdays-Sundays; Check the web site for details. Payment: Cash, only. (UPDATED: June 29, 2008)
Harvest Valley Farms - corn maze, straw maze, hay maze, Pick-your-own pumpkin, hayrides, crafts, farm animals, face painting, and live entertainment.
125 Ida Lane, Valencia, PA 16059. Phone: (724) 443-5869. Email: kings5@consolidated.net. Most activities are on Saturdays and Sundays during October. There is no admission fee. Open: Pick-your-own-pumpkin Saturday and Sunday in October 10 to 5, Market Mon to Friday 10 to 6, Saturday from 9 to 6, Sun 10- 4. Season: May 5 - October 31. (UPDATED: June 11, 2014, from their website) (UPDATED: September 29, 2009)
Cambria County
Fayette County
Rich Farms - corn maze, nighttime haunted maze, pumpkins
2043 Springhill Furnace Road, Smithfield, PA 15478. Phone: 724-564-7644. Phone: 877-564-7644. Email: sararockwell@richfarms.com. Open: Thursday 2:00 pm - 6:00 pm, Friday - Sunday 10:00 am - 6:00 pm. Last entry at 4:30 pm. Rich's pumpkin farm is visited by thousands of children and their families each October. The farm includes a barnyard with animals, a maze, and a large play area. Children can choose from a field of pumpkins and go into the barn to decorate and paint them. Adults and children can then take a one mile tractor and wagon ride along the farm trail, decorated with fall and Halloween features to look at an enjoy.The facilities buildings and areas are modern and perfect to rent for parties, groups, and events. These include two large, open-air pavilions, a finished, enclosed barn used for about any event, and a large facilities building able to house weddings and large events. Fright Farm has been an integral part of many people's Halloween tradition for over three decades, growing every year since its inception. Entering its 31st season, Fright Farm is one of Pennsylvania's top rated professional haunted attractions. Our state-of-the-art special effects, highly-detailed scenes, custom digital soundtracks, computerized lighting, and talented actors make Fright Farm a frightening experience unlike any other.
Greene County
Indiana County
Yarnick's Farm -hayrides, haunted house, pumpkins, restrooms, gift shop, snacks and refreshment stand, picnic area, snacks and refreshment stand, picnic area, picnic area
155 Thomas Covered Bridge Road, Indiana, PA 15701. Phone: 724-349-3904 or 1-877-349-3904. Open: Farm Market: open daily, 9 a.m. - 5 p.m. Hayrides to Pumpkin Patch: Saturdays and Sundays in October, 12 p.m. - 4 p.m. Haunted House and Maze: Fridays, Saturdays, and Sundays in October, 6 p.m. - 11 p.m.; 6 - midnight on Halloween. Directions: See their website for directions. Payment: .. (ADDED: October 24, 2010, suggested by a visitor)
A visitor writes on October 24, 2010: " In October there are Halloween-related activities including a corn maze, haunted house, and hayrides to the pumpkin patch. On haunted house nights they also have a bonfire. Admission to the haunted house is $10/person. The Farm Market features fresh-picked vegetables as well as black angus beef and smoked meats from animals raised on the farm. They have ice cream, cheese, and other dairy products from other nearby, local farms. They also make and sell their own sauces made from their tomatoes and other vegetables, and carry a line of soy-based fragrances and candles in their souvenir shop"
Jefferson County
Aislinn Astor Farm - 2023 permanently closed corn maze
158 Greenawalt Road, Brookville, PA. Phone: 814-849-2832. Email: mccormack@alltel.net. Open: UPDATE for 2023, There is NOTHING current about them ANYWHERE on the Internet so I assume they have permanently closed (or are the world's most clueless businessmen); If you have any current information, please write me,from Saturday, September 15th to Saturday, November 3rd, on Thursday and Friday from 6 pm to 9 pm, Saturday from 1 pm to 11 pm, Sunday from 1 pm to dusk. Directions: From I-80, exit 81 (old exit 14), North on 28 for 1.5 miles, left on Milliron. Go 1 mile to Greenawalt Road. Right on Greenawalt. (second stop sign) The maize is one-half mile on your left. From Brookville at Ace Hardware--Richardsville Road 3.5 miles to Gravel Rd. Follow Gravel Rd. to Milliron. Left on Milliron to Greenawalt. Right on Greenawalt. The Maize is one-half mile on your left. From Hazen, 28 South 3/4 mile to Greenawalt Rd., right on Greenawalt Rd. Watch for signs. 2007 Admission prices: Adult 12 and up $7.00, Children 6-11 $5.00, Seniors (65 and over) $5.00, Children 5 and under: Free with adult. Groups/School Field Trips--reservation required . $1 off with College ID. Free with Military ID.
Cooper Farm Market - corn maze, hay maze, pumpkins
484 Cemetery Road, Falls Creek, PA, 15840. Phone: 814-375-7050. Email: cooperfarm@verizon.net. Open April 30 through November 1, Closed in July. They have a corn maze, hay maze, and a couple festivals. The Pumpkin Fests this year are September 30, October 7, 14 and 21, 2006. They are certified under Farmer's Market Nutrition Program.
UPDATE for 2020:
Its Pumpkin Fest time, but unfortunately we're all dealing with the pandemic. Cooper Farm Market has decided not to hold our usual Pumpkin Fests this year. We know this is very disappointing to many and we are equally disheartened. We will, however, be open every day 10 a.m. to 6 p.m. We are stocked with pumpkins, apples, cider, gourds, Indian corn, stalks, hay bales, canned goods and many new fall decorations are in our store. Baked goods will be available on the weekends, starting Saturday, Sept. 26. There will be no hay rides, petting zoo, kid play area, food vendor, ice cream or picnic area this year. But, the corn maze will be open. Pumpkin People, Scarecrows, The Witch and cut-outs are all set-up for your photo ops.
Thompson Farms - corn maze,
1344 Odonnell Road, Sigel, PA 15860. Phone: 814-752-2271. Email: thompsonfarms1@hotmail.com. Crops are usually available in August, September. Open: Monday through Friday from 3pm* to 8pm, Saturday 8am to 8pm, Sunday's by chance; * - Open before 3pm by chance or appointment. Sweet Corn is available around labor day. Payment: Cash, Check. All sweet corn is picked fresh out of the field by farm staff at the time of sale so please plan ahead to wait promptly. Attention Valued Corn Maze guest: Effective August 1, 2008 the maze will closed it's doors for agritourism due to skyrocketing fuel, operating, and insurance cost. We apologize about having to make this tough decision but we would like to thank our valued guest who have made the past three years possible. ( UPDATED: July 12, 2008)
Lawrence County
Cheeseman Farm - corn maze, pumpkins for sale in the shop or farmstand, pumpkin patch-pick in the field, pumpkin patch- already gathered from the field, Fall festival, haunted corn maze, straw or hay bale maze, child-sized haybale maze, we also have pie pumpkins, tractor-pulled hay rides, haunted house, haunted rides, haunted trail, gift shop, concessions / refreshment stand, restrooms, picnic area, face painting, petting zoo, farm animals, birthday parties, weddings and wedding parties, school tours, farm market, events at your location (call for info)
147 Kennedy Road, Portersville, PA 16051. Phone: 724-368-3233. Email: Betsy@cheesemanfarm.com. Open: Click here for current open hours, days and dates. Directions: Click here for a map and directions. Payment: Cash, only. We also have a haunted hay ride and a haunted house. (UPDATED: August 20, 2013) (ADDED: June 11, 2012)
Somerset County
Washington County
Westmoreland County