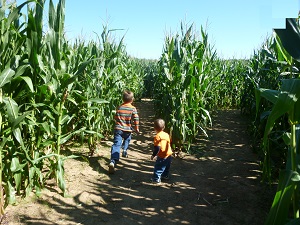 Looking for a local corn maze or hayride in North Carolina? Scroll down this page and you will see the all of those in North Carolina, sorted by county. Some are huge corn mazes with hayrides, pumpkins, corn cannons, inflatables and others are simple corn mazes with little else. Most also have loads of pumpkins to choose from. To really make it fun for your kids, look for those that have the extra activities, like a corn cannon, cow train, inflatables, farm animals, pumpkin patch or zip lines. There is usually a small fee for the mazes (of course, the more elaborate mazes tend to charge more. Hayrides are often free. A LWAYS call before you go to confirm whether they are open this year and any requirements, they don't always report changes to me, and many closed permanently due to the covid lockdowns!
And if you know of one I missed and want to add it or correct the information, please let me know!
New! We just went live with our latest website, FunFactoryTours.com - As they name implies, you can find a fun factory tour, including chocolate, automobiles, historical forts and sites, famous buildings, active Federal facilities like dams, a mint, NASA, even fun geology: like fossils and volcanic areas They're fun, inexpensive and educational! And for road trips and camping, see RoadTrippingAndCamping.com
There are affiliate links on this page. Read our disclosure policy to learn more.
Updates for November 2023
November: Corn mazes aren't open until late July or August - Same with Pumpkin patches. And if you are looking for a pumpkin patch, this website for pumpkin patches). You may also want to try the latest fun, Zombie Paintball, see this website!.
Corn mazes, sorted by county
Click on Resources above, if you need a county map
Clatsop County
Columbia County
Tillamook County
Kilchis River Pumpkin Patch and Corn Maze - corn maze, pumpkin patch-pick in the field, hayrides, haunted maze, pony rides,
9455 Kilchis River Rd., Tillamook, OR 97141. Phone: 503-815-3762. Email: zweifel@oregoncoast.com. Open: October 12-14, 19-21, and 26-28th; with these hours, Fridays from 5 pm to 9pm, Saturdays from 12 pm to 9pm, and Sundays from 12 pm to 5 pm. Directions: Just past the 2 mile marker on Kilchis River Rd. We have a 5 Acre Corn Maze - $5.00 entrance fee (2012) 1,000's of U-Pick Pumpkins, Designer pumpkins & gourds this year, kids Maze, Hay Rides, Explore the maze at night on Friday & Sat, Bring your own flashlight for our Haunted Maze Oct 27th at Dusk $7.00, Fundraiser for SAFE & cross country, Bring Your Boots & Rain gear, Miniature Horse Wagon Rides on Saturdays weather permitting ($2.00 with corn maze tickets otherwise $5.00/ride.).(ADDED: October 11, 2012)
A visitor writes on October 11, 2012: "This farm does a corn maze for the county in October. Could you please contact them and ask if you can add them to your Pumpkin Patches and More.org. I think it would help their business and help more people in the county find them through a search engine. Thank you!"

Washington County
Greenville Farms - corn maze, pumpkins,
43775 NW Greenville Road, Forest Grove, OR, 97116-8230. Phone: 503-359-4763. Email: Sid@wifi-nw.com.

Jim Dandy Farm

- corn maze, pumpkins, tomatoes, pumpkin patch-pick in the field, haunted corn maze, pumpkin patch- already gathered from the field, prepicked produce, restrooms, picnic area, farm animals
45770 NW Sunset Hwy, Banks, OR 97106. Phone: 503-324-3954. Email us at: truss9958@aol.com. Directions: From Portland, Beaverton, Hillsboro take Sunset Hwy(26) to mile post 49 at Manning. And for a map to our farm, click here. Crops are usually available in September, October. Open: 9:00-7:00 Daily Payment: Cash, only. Farm Market. Free corn maze, Daytime The Haunted Farm.
Lakeview Farms - corn maze, pumpkins, pumpkin patch-pick in the field, train rides, straw or hay bale maze, child-sized haybale maze, gift shop, snacks and refreshment stand, restrooms, face painting, pony rides, petting zoo
31345 N W North Ave North Plains Or 97133, north plains, OR 97133. Phone: 503-647-2336. Fax: 503-647-5960. Email us at: loneoakland@msn.com. Directions: On North Avenue directly across from the North Plains grade school And for a map to our farm, click here. Crops are usually available in October. Open: Monday 9 to 5 Sunday 10 to 5 Payment: Cash, Check, Visa/MasterCard, Discover, AmEx.
Lee Farms Pumpkin Patch - corn maze, pumpkin patch, hayrides, farm animals, hay maze, bounce house, pony rides
21975 SW 65th Avenue, Tualatin, OR 97062. Phone: 503-638-1869. Email: info@leefarmsoregon.com. Directions: Click here for a map and directions. Open: 7 days a week; weekdays in October from 3:00pm-6:00pm and Weekends from 9:00am-6:00pm. Payment: Credit cards accepted, fall hay rides. Cut your own Christmas trees. Open Nov 14 for Christmas season. Closed Nov 1-13 for Christmas change over. Restrooms available. Large parking lot and indoor barn so no worry about bad weather. Fresh cider and cider donuts, Weekend Hay Rides, Weekend Pony Rides, Fresh Kettle Corn, Country Kitchen, Our Country Store carries many fun holiday decorations from gourds and Indian corn to straw bales and corn stocks. We also have a great selection of decorations to get you in the holiday spirit. 4 Acre Cornmaze*, Hayrides, Barrel wagon Rides, Slide, Pony Rides*, Haymaze's, Tryke track, Rope Maze, Farm Animals, Bounce Pillow, Facepainting* - Note * means Weekends only. (UPDATED: November 26, 2016, JBS) (UPDATED: October 05, 2011, from their website)(ADDED: November 2, 2008)
Schlichting Century Farms / Gramma's Place - corn maze, pumpkins, pumpkin patch-pick in the field, pumpkin patch- already gathered from the field, tractor-pulled hay rides,
17995 SW Scholls-sherwood Road, Sherwood, OR 97140. Phone: 503-625-3312. Alternate Phone: 503-936-3637. Fax: 503-625-7456. Email: dswachlin@yahoo.com. Open: Monday through Saturday, 10am to 6pm Sundays 11am to 5pm May - October 31st. Directions: 1.5 miles West of 99W on Roy Rodgers Road at intersection off Scholls-Sherwood Road. Click here for a map and directions. Pumpkin Patch, hayrides, Uncle Don's Pumpkin Cannon, corn maze; We will be harvesting our Super Sweet Corn in September/October; Come visit our year round, on-farm self service wild bird seed outlet store. Payment: Cash, Check, Debit cards, Visa/MasterCard, WIC Vouchers, SFMNP Vouchers. Please bring your own bucket for U-Pick. (UPDATED: June 22, 2009)
Smith Berry Barn -

follows organic practices,

straw or hay bale maze, pumpkin patch- already gathered from the field, child-sized haybale maze, tractor-pulled hay rides, prepicked produce, gift shop, restrooms, picnic area, farm animals
24500 SW Scholls Ferry Road, Hillsboro, OR 97007. Phone: 503-628-2172.

Directions: Scholls Ferry Rd. 10 miles SW of Washington Square in Scholls.

Click here for a map and directions. Click here for current open hours, days and dates. Click here for picking updates. Crops are usually available in June, July, August, September, October. Open: Seasonal hours vary, please check our website for current information. We follow organic methods, but are not yet certified. Payment: Cash, Check, Visa/MasterCard. Additionally we grow numerous varieties of squash and over 25 varieties of apples that are ready picked. (UPDATED: June 23, 2008)