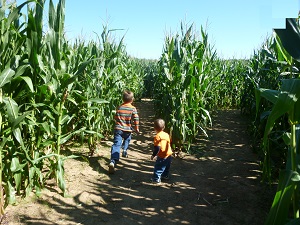 Looking for a local corn maze or hayride in Northwest Ohio? Scroll down this page and you will see the all of those in Northwest Ohio, sorted by county. Some are huge corn mazes with hayrides, pumpkins, corn cannons, inflatables and others are simple corn mazes with little else. Most also have loads of pumpkins to choose from. To really make it fun for your kids, look for those that have the extra activities, like a corn cannon, cow train, inflatables, farm animals, pumpkin patch or zip lines. There is usually a small fee for the mazes (of course, the more elaborate mazes tend to charge more. Hayrides are often free. A LWAYS call before you go to confirm whether they are open this year and any requirements, they don't always report changes to me, and many closed permanently due to the covid lockdowns!
And if you know of one I missed and want to add it or correct the information, please let me know! There are affiliate links on this page. Read our disclosure policy to learn more.
Updates for October 2023
October: Corn mazes aren't open until late July or August - Same with Pumpkin patches. And if you are looking for a pumpkin patch, this website for pumpkin patches). You may also want to try the latest fun, Zombie Paintball, see this website!.
Corn mazes, sorted by county
Click on Resources above, if you need a county map
Allen County
Suter Produce - corn maze, Apples, cider mill, pumpkins, pumpkin patch-pick in the field, pumpkin patch- already gathered from the field, corn cannon, prepicked produce, snacks and refreshment stand, tractor-pulled hay rides, wagon rides
12200 Pandora Road, Pandora, OH 45877. Phone: 419-384-3331. E-mail: suterpro@q1.net. Open: The Cider Press is now open daily until October 31st Click here for cider press hours; The Corn Maze and Hayrides are open Saturday and Sunday until October 26th; (corn maze and hayride hours and info click here); Maze hours: Saturday 1 pm to 8 pm, Sunday 1 pm to 8 pm, Last admission is at 7 pm. Directions: 2 miles south of the Shell station in Pandora, Ohio And for a map to our farm, click here. Payment: Cash, Check. Join us this weekend at the Corn Maze for some good cowboy food (BBQ sandwich, Hotdogs, and hamburgers) We press cider on Wednesday and Saturday mornings from 7am - 8:30am. (UPDATED: September 9, 2017, JBS) (UPDATED: May 08, 2015, JBS) (UPDATED: October 09, 2014) (UPDATED: October 13, 2013, from their website) (UPDATED: July 26, 2009)
Auglaize County
The Furry Tail Farm - corn maze, haunted corn maze, kiddie (mini) corn maze, pumpkins for sale in the shop or farmstand, pumpkin patch- already gathered from the field, cow train / barrel train rides, Zombie paintball, goat walk, tractor-pulled hay rides, concessions / refreshment stand, porta-potties, jumping pillow, pedal kart track, mining for gems, petting zoo, farm animals, birthday parties, school tours
19407 State Route 117, Waynesfield, OH 45896. Phone: 419-231-1032. Email: thefurrytailfarm@gmail.com. Open: Saturdays and Sundays, from 11am to 5pm, September 17 through October 30. Click here for current open hours, days and dates. Directions: For a map to our farm, click here. Payment: Cash, Debit cards, Visa/MasterCard, Discover. Click here for our Facebook page. (UPDATED: July 28, 2016) (UPDATED: August 28, 2013) (ADDED: August 31, 2012)

Hirshfeld

- haunted cornfield
intersection of Southland Road and State Rt 364, New Bremen, OH. Open: October 20-22 and 27-29 and the 31st. Sunday nights are no fright nights for family's and kids. Admission is $5. Directions: look for signs on st. route 66 and 219 in between New Bremen and St. Marys. This is a haunted cornfield, it is made from a 20 acre cornfield and has wheat stubble next to it for parking. Those of us running it are very excited, it should be very energetic!
Defiance County
Lucas County
Fleitz Pumpkin Farm - pumpkins, cornmaze, hayrides,
7133 Seaman Rd, Oregon, OH 43616. Phone: 419-836-7613. Email: Fleitzfarm@aol.com. Open: September 12 to October 31st daily, from 10 am to 7 pm.
Directions: Just two miles south of Maumee Bay State Park.. Directions to the U-PICK strawberry and blueberry farm 4374 County Road 3, Swanton ( The first road West of our Airport Hwy. farm is Co. Rd. 3. Take Rd. 3 South almost 3 miles, the farm is on the left side of the road. (between the crossroads of Co. Rds. E and D.) Huge selection of pumpkins and fall decorations featuring unique items like giant pumpkins, giant squash, and popcorn on the cob!
We have free and affordable activities for all ages to enjoy
• Free mini corn maze
• Free kids straw bale maze (ages 6 and under)
• Free straw bale play tower and tricycle ride-on zone
• Feed the Goats and chickens
• $1 one-acre maze
• $2 five-acre maze
• $1 hayrides
• Craft Barn
• Snack Shack featuring homemade donuts, fresh apple cider, hot sandwiches and hot dogs
(ADDED: September 9, 2017, JBS)
Mercer County
Paulding County
Auglaize Corn Maze & Pumpkin Patch

-

pumpkins for sale in the shop or farmstand, pumpkin patch-pick in the field where they grow, pumpkin patch- harvested and laid out on the ground or lawn, corn maze, cow train / barrel train rides, tractor-pulled hay rides, Trick-or-treating event, Fall festival, Cider mill with fresh apple cider made on the premises, porta-potties, picnic area, picnic area (bring your own food), school tours, group reservations
24821 Road 207, Oakwood, OH 45873. Phone: (419) 594-3456. Email: auglaizecanoe@gmail.com. Open: September t 1 thru October 31 Friday and Saturday 9 - 5 Sunday 12:30 to 5 Groups thought the week by appointment. Click here for current open hours, days and dates. Picking updates: Click here for updates. Directions: 24821 road 207 oakwood ohio 45873. Click here for a map and directions. Payment: Cash, Debit cards, Visa/MasterCard, Discover. Click here for our Facebook page. (ADDED: August 05, 2022)
Putnam County
Van Wert County
Lincoln Ridge Farms - corn maze, pumpkin patch in the field, pumpkins (brought in from the field), pony rides, farm animals, restrooms, gift shop, concession stand (drinks, snacks and/or food), group tours
6588 Pollock Rd, Convoy, OH 45832. Phone: 419-749-4224. Email: lincolnridgefarms@yahoo.com. Open: Fall Mums & Pumpkin Festival runs every weekend in October; Saturdays 11 am to 7 pm and Sundays 12 pm to 6 pm. Our Retail Shop is open Thursday - Saturday from 11 am - 5 pm; CLOSED Mondays except for scheduled events/school tours. Directions: See their website for directions. Payment: Cash, only. Our favorite time of the year is Fall when all the fun begins at Our Fall Mums & Pumpkin Festival which occurs each year at our farm in October... We have many activities for family's to enjoy a fun, yet relaxed day together... Those activities include: Haywagon rides to the corn maze, pumpkin patch, Punkin Chunkin, Straw Mountain with a tunnel slide & Zip Line, The Great Punkin Jump, Pumpkin Paintball, Gem Stone Mining, Candle Dipping, Barnyard Petting Zoo, Hootmobile Car Trail & our original 'Great Autumn Adventure' (a whimsical forest, family friendly, spooky barn!) During our festivals we offer concession style food including Kettle Korn & Carmel Apples. You won't have any problems finding the perfect pumpkin or gourd at Lincoln Ridge Farms - we grow more than 40 different varieties of gourds & pumpkins! Along with a colorful array of hardy Mums & ornamental grasses. We also have 2 gift shoppes filled with unique Fall decorations, Click here for our Facebook page. (UPDATED: August 24, 2017) (UPDATED: May 08, 2015, JBS) (ADDED: September 09, 2013, suggested by a visitor)
Williams County
Votaw Farms - corn maze, pumpkins, Pick-your-own apples, pumpkins for sale in the shop or farmstand, pumpkin patch-pick in the field where they grow, pumpkin patch- harvested and laid out on the ground or lawn, cow train / barrel train rides, tractor-pulled hay rides, Cider mill (fresh apple cider made on the premises), U-pick and already picked, concessions / refreshment stand, porta-potties, picnic area, inflatables/bounce house, petting zoo, birthday parties, school tours, group reservations, events at your location (call for info)
18864 Cr 13, Pioneer, OH 43554. Phone: (419) 737-2207. Alternate Phone: (419) 630-6289. Email: votawfarms@frontier.com. Open: During Store hours October - November. Open: Click here for current open hours, days and dates. Directions: Click here for a map and directions. Corn Maze open Labor Day to November 1. Payment: Cash, Check, Debit cards, Visa/MasterCard, Discover, AmEx, SFMNP Vouchers. Click here for our Facebook page. (ADDED: February 08, 2020)