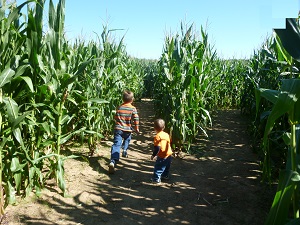 Looking for a local corn maze or hayride in Western Nevada? Scroll down this page and you will see the all of those in Western Nevada, sorted by county. Some are huge corn mazes with hayrides, pumpkins, corn cannons, inflatables and others are simple corn mazes with little else. Most also have loads of pumpkins to choose from. To really make it fun for your kids, look for those that have the extra activities, like a corn cannon, cow train, inflatables, farm animals, pumpkin patch or zip lines. There is usually a small fee for the mazes (of course, the more elaborate mazes tend to charge more. Hayrides are often free. A LWAYS call before you go to confirm whether they are open this year and any requirements, they don't always report changes to me, and many closed permanently due to the covid lockdowns!
And if you know of one I missed and want to add it or correct the information, please let me know!
New! We just went live with our latest website, FunFactoryTours.com - As they name implies, you can find a fun factory tour, including chocolate, automobiles, historical forts and sites, famous buildings, active Federal facilities like dams, a mint, NASA, even fun geology: like fossils and volcanic areas They're fun, inexpensive and educational! And for road trips and camping, see RoadTrippingAndCamping.com
There are affiliate links on this page. Read our disclosure policy to learn more.
Updates for November 2023
November: Corn mazes aren't open until late July or August - Same with Pumpkin patches. And if you are looking for a pumpkin patch, this website for pumpkin patches). You may also want to try the latest fun, Zombie Paintball, see this website!.
Corn mazes, sorted by county
Click on Resources above, if you need a county map
Carson City
Churchill County
Lattin Farms - corn maze, pumpkins, Hayrides, Giant Pumpkin contest, Pumpkin Tower lighting, and moonlight mazes
1955 McLean Road, Fallon, Nevada, 89406. Phone: 775-867-3750, Toll Free: 866-638-6293, Email: lattinfarms@aiinc.com
Open 27th August - 30th October. Lattin Farms is in Fallon Nevada, about 30 miles east of Reno. They have fresh bread, home-canned jams and jellies, homemade gifts, etc. They also have Heart'o'gold melons (the very best!), corn, pumpkins, and on and on. They also have a huge corn maze. They have bridges built over it with workers to get people out that get lost. They have farm animals and a bunch of activities for the kids.
Douglas County
Corley Ranch - corn maze, pumpkins, pumpkin patch-pick in the field, pig races, cow train, bounce house, minature golf, wedding venue, private parties
859 Highway 395 South, Gardnersville, NV. Phone: 775-265-6506. Alternate phone: 775-790-1705. Email: info@corleyranch.com. Open: Come visit us from October 1st to October 31st, See their website for for hours and availability. Directions: See their website for directions. Payment: Cash, only. See their website for a coupon! The Pumpkin Patch is open every October for you enjoyment. Each year (depending upon the weather) we grow thousands of pumpkins. .(UPDATED: May 30, 2016, JBS) (ADDED: September 26, 2011, suggested by a visitor)
A visitor writes on September 26, 2011: "I haven't been there yet. We're planning on going in October 2011. It's been going for a long time, very famous in the area. "
Esmeralda County
Lyon County
- corn maze, pumpkin patch
2493 State Route 208, Smith, NV 89430. Phone: (775) 771-1852. Alternate Phone: 775-465-2460. Open: Daily 9-9 for Produce, Jams, Honey, Corn maze, Pumpkin Patch. Of course, the Corn Maze and Pumpkin Patch open in the late summer. The produce Stand is open from late May, Every Day 9 - 9 pm. We also grow produce. Although we are not organic certified, we do not use chemicals in our garden. (ADDED: May 30, 2016, JBS)
Mineral County
Pershing County
Storey County
Washoe County
Andelin Family Farm - corn maze, pumpkins for sale in the shop or farmstand, pumpkin patch-pick in the field, pumpkin patch- already gathered from the field, Fall festival, haunted corn maze, kiddie (mini) corn maze, straw or hay bale maze, child-sized haybale maze, corn cannon, we also have pie pumpkins, tractor-pulled hay rides, Honey from hives on the farm, concessions / refreshment stand, porta-potties, face painting, pony rides, farm animals, birthday parties, school tours
8100 Pyramid Way, Sparks, NV 89436. Phone: 775-530-8032. Email: andelinfamilyfarm@gmail.com. Open: October 1 to October 31; Pumpkin Patch is open Monday to Thursday 10am to 3pm; Friday and Saturday 10am to 6pm; Corn Maze is open Thursday to Saturday 10am to 10pm. Click here for current open hours, days and dates. Directions: Go north on Pyramid Highway from Sparks. About 1/2 mile after Lazy 5 Park/Spanish Springs Library turn right onto a dirt road. Look for the signs! Follow the signs to the pumpkin patch and corn maze. Click here for a map and directions. Payment: Cash, Check, Visa/MasterCard, Discover, AmEx. Click here for our Facebook page. We have alot of barn yard activities that are included in the pumpkin patch admission price. Such as the corn shed, puppet shows on Saturdays, the play garden, hay maze, kiddie corn maze, meet the farm animals, photo boards, pumpkin targets, lassoing! 2013 prices: Pumpkin patch admission-$6 Corn Maze-$5. (UPDATED: October 03, 2013) (UPDATED: April 02, 2012) (ADDED: August 04, 2010)

Ferrari Farm

- corn maze, pumpkin patch, pumpkins, gourds, train ride, hayrides, pony rides, bounce house, farm animals (not a petting zoo).
Corner of Rock Blvd and Mill St, Reno, NV, 89506. Phone: 775-856-4962.Open: The pumpkin patch and corn maze hours are from 9 a.m. to 8 p.m. through October 31 at Ferrari Farm, corner of Rock Boulevard and Mill Street. Activities include: hayrides, pony rides, bounce house, farm animals, corn maze and pumpkin patch. Pony rides occur each Friday, Saturday and Sunday. Bring flashlight for night-time corn mazes, hayrides and pumpkin patch picking. Cost: $3 per person or $10 per family for hayrides; $5 corn maze; $4 pony rides; $1 bounce house. (Pumpkins priced according to size). Details: 856-4962.. It's a real farm so if you want to, you can go out into the aisles of planted pumpkin crops to pick that perfect pumpkin. Great education for some of us city kids.
Pumpkin Patch Harvest Festival & Craft Fair - pumpkin patch- already gathered from the field, Fall festival, haunted house, concessions / refreshment stand, restrooms, picnic area
1231 Pyramid Way at the corner of Oddie Blvd, Sparks, NV 89431. Phone: 775-358-0925. Alternate Phone: 775-673-1628. Email: harvestfestival2015@gmail.com. Open: Pumpkin Patch open daily from October 15 to October 31 2015; Hours 10 am to 5 pm and Sunday from 11 am to 4 pm. Directions: Click here for a map and directions. Payment: Cash, only. (ADDED: July 25, 2015)
Silver Valley Farm - corn maze, pumpkin patch-pick in the field where they grow, train rides, tractor-pulled hay rides, concessions / refreshment stand, porta-potties, picnic area, face painting, inflatables/bounce house, mining for gems, school tours
3995 Bacon Rind Road, Reno, NV 89510. Phone: (775) 225-7952. Email: richard@silvervalleyllc.com. Open: Thursday - Sunday 9am to 5pm. Click here for current open hours, days and dates. Directions: Click here for a map and directions. Payment: Cash, Debit cards, Visa/MasterCard, Discover, AmEx. Click here for our Facebook page. Our retail location has several inflatable attractions for all sizes. From tots to teens, they're sure to have a blast at the pumpkin patch. From themed bounce houses like Cinderella and Snow White or Batman and Superman, to the Giant Slide or the Challenging Obstacle Course. (ADDED: October 04, 2019)