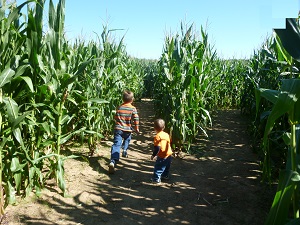 Looking for a local corn maze or hayride in Southwestern New Hampshire? Scroll down this page and you will see the all of those in Southwestern New Hampshire, sorted by county. Some are huge corn mazes with hayrides, pumpkins, corn cannons, inflatables and others are simple corn mazes with little else. Most also have loads of pumpkins to choose from. To really make it fun for your kids, look for those that have the extra activities, like a corn cannon, cow train, inflatables, farm animals, pumpkin patch or zip lines. There is usually a small fee for the mazes (of course, the more elaborate mazes tend to charge more. Hayrides are often free. A LWAYS call before you go to confirm whether they are open this year and any requirements, they don't always report changes to me, and many closed permanently due to the covid lockdowns!
And if you know of one I missed and want to add it or correct the information, please let me know!
New! We just went live with our latest website, FunFactoryTours.com - As they name implies, you can find a fun factory tour, including chocolate, automobiles, historical forts and sites, famous buildings, active Federal facilities like dams, a mint, NASA, even fun geology: like fossils and volcanic areas They're fun, inexpensive and educational! And for road trips and camping, see RoadTrippingAndCamping.com
There are affiliate links on this page. Read our disclosure policy to learn more.
Updates for November 2023
November: Corn mazes aren't open until late July or August - Same with Pumpkin patches. And if you are looking for a pumpkin patch, this website for pumpkin patches). You may also want to try the latest fun, Zombie Paintball, see this website!.
Corn mazes, sorted by county
Click on Resources above, if you need a county map
Cheshire County
Stonewall Farm - hayrides (no corn maze or pumpkin patch, we only have ONLY hay rides)
242 Chesterfield Road, Keene, NH 03431. Phone: 603-357-7278. Fax: 603-357-6018.
Stonewall Farm is located just off route 9 West on Chesterfield road in Keene, NH. BELGIAN HAYRIDES & TOURS Weekends, Now through October 24; Noon - 3:00 pm FEES: $5/person; $3/children 4 - 14, 3 & under FREE Enjoy a horse-drawn hayride with our friendly Belgians in the lead, while Teamster Dave Bradham and our staff introduce you to our teams. No registration required. Hayrides will be given at Stonewall Farm at White Brook. Note: we have no corn maze or pumpkin patch, ONLY hay rides. Click here for our Facebook page. (UPDATED: October 21, 2015)
Timber Trails Equine Center - tractor-pulled hay rides, haunted rides, haunted trail, restrooms, picnic area, farm animals
237 Mackey Rd, Troy, NH 03465. Phone: (603) 242-6230. Email: timbertrails.ec@gmail.com. Open: October 22 and 23 7:30pm to 11:30pm. Directions: Click here for a map and directions. Haunted Hayrides offered Friday October 22 and Saturday October 23, 2010 from 7:30pm to 11:30pm; $5 per adult, $3 for ages 15 and under, and a maximum of $15 per family! All riders ages 10 and under must be accompanied by an adult!. Payment: Cash, only. (ADDED: September 11, 2010)
Walpole Corn Maze (NH) - corn maze, restrooms, haunted corn maze
Route 12, Walpole, NH 03608. Phone: 603 756-3113. Open: The Corn Maze is open for three weekends in October (Saturday, October 12, 2013 — 7-9 PM; Sunday, October 13, 2013 — 2-4 PM; Friday, October 18, 2013 — 7-9 PM; Saturday, October 19, 2013 – 2-4 PM; Saturday, October 19, 2013 – 7-9 PM; Sunday, October 20, 2013 – 2.4 PM), with the last weekend this year (October 25, 26 and 27) a Haunted Walpole Weekend. Directions: See their website for directions. Payment: Cash, only. (ADDED: September 15, 2013, suggested by a visitor)
A visitor writes on September 15, 2013: "Now in its third year, the Corn Maze and other activities have been well received and attendance has grown with enthusiasm."
Sullivan County