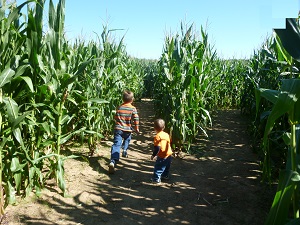 Looking for a local corn maze or hayride in Northern Mississippi? Scroll down this page and you will see the all of those in Northern Mississippi, sorted by county. Some are huge corn mazes with hayrides, pumpkins, corn cannons, inflatables and others are simple corn mazes with little else. Most also have loads of pumpkins to choose from. To really make it fun for your kids, look for those that have the extra activities, like a corn cannon, cow train, inflatables, farm animals, pumpkin patch or zip lines. There is usually a small fee for the mazes (of course, the more elaborate mazes tend to charge more. Hayrides are often free. A LWAYS call before you go to confirm whether they are open this year and any requirements, they don't always report changes to me, and many closed permanently due to the covid lockdowns!
And if you know of one I missed and want to add it or correct the information, please let me know!
New! We just went live with our latest website, FunFactoryTours.com - As they name implies, you can find a fun factory tour, including chocolate, automobiles, historical forts and sites, famous buildings, active Federal facilities like dams, a mint, NASA, even fun geology: like fossils and volcanic areas They're fun, inexpensive and educational! And for road trips and camping, see RoadTrippingAndCamping.com
There are affiliate links on this page. Read our disclosure policy to learn more.
Updates for November 2023
November: Corn mazes aren't open until late July or August - Same with Pumpkin patches. And if you are looking for a pumpkin patch, this website for pumpkin patches). You may also want to try the latest fun, Zombie Paintball, see this website!.
Corn mazes, sorted by county
Click on Resources above, if you need a county map
Alcorn County
Circle Y Equestrian Center - pumpkins, pony rides, horse rides, wagon rides
503 County Road 512, Corinth, MS 38834-7920. Phone: (662) 665-0820. They have restrooms, a picnic area, a restaurant, petting zoo, puttputt golf, playground,. They recently put in a bouncy room filled with inflatable fun. They have a fishing rodeo in the summer. They have a hay ride to and from the pumpkin patch.
Benton County
Bolivar County
Calhoun County
Carroll County
Triple R Ranch - straw or hay bale maze, pumpkin patch- already gathered from the field, tractor-pulled hay rides, wagon rides, haunted trail, snacks and refreshment stand, restrooms, picnic area, face painting, pony rides, petting zoo, farm animals, birthday parties, school tours
Hwy 35, Carrollton, MS 38917. Phone: 662-453-8712. Email: horseflysplat@yahoo.com. Open: Monday to Saturday 9:00 am to dark Sunday 1:00 am to dark. Directions: Payment: Cash, Check. (UPDATED: August 30, 2009)
Chickasaw County
Madi Bell Farms - Hay Maze, pumpkin patch, Hayrides, restrooms, Picnic Area, Petting Zoo, Playground, Snacks Stand, Pumpkin Patch, Birthday Parties, farm animals
231 CR 216, Houston, MS 38851. Phone: 662-456-2011. Email: park2011@bellsouth.net. Open: See their website for for hours and availability. Directions: We are located right outside of Houston, North on Okolona Cut-Off Road. See their website for directions. Payment: . We have a picnic and a play area for children. We also have a concession stand. If you would like to have a birthday party with all of the animals, come on! Call for pricing for birthday parties and special events. General admission is only $5 for children and adults. When you pay for admission the Pumpkin Patch is also included! Our hayride and haymaze is also included in the admission, whenever it is not raining!! (ADDED: October 09, 2010, suggested by a visitor) (UPDATED: October 16, 2010)
A visitor writes on October 09, 2010: "I love this place. Unfortunately, it burned last year and many of the animals died. However, it has been rebuilt and is better than ever!"
Clay County
Coahoma County
De Soto County
Cedar Hill Farm -

Minimizes chemical and pesticide use

, corn maze, pumpkins, pumpkins for sale in the shop or farmstand, pumpkin patch-pick in the field, pumpkin patch- already gathered from the field, Fall festival, train rides, straw or hay bale maze, corn cannon, pig races, we also have pie pumpkins, tractor-pulled hay rides, zombie paintball, haunted rides, haunted trail, Honey from hives on the farm, Fresh eggs, U-pick and already picked, farm market, gift shop, concessions / refreshment stand, restrooms, picnic area, face painting, pony rides, petting zoo, farm animals, birthday parties, weddings and wedding parties, school tours
008 Love Rd, Hernando, MS 38632. Phone: 662-429-2540. Email: cedarhfarm@yahoo.com. Open: End of September - First of November, visit our website for specific dates and times; Open seven days a week during fall season. Click here for current open hours, days and dates. Pumpkin updates: Click here for updates. Directions: Click here for a map and directions. We minimize use of pesticides and other chemicals. Payment: Cash, Check, Debit cards, Visa/MasterCard, Discover, AmEx. Click here for our Facebook page. Also see our Easter Egg Hunts, Fireworks on the Farm, Pumpkin Patch, Corn Maize and Haunted Attractions, Breakfast with Santa, Choose and Cut Christmas Trees. Every Halloween we also host our annual Haunted Hayrides & Trail of Terror. The kids can pet the animals in our petting zoo, ride a pony, ride the train ride, watch the animated chicken show and play on our play areas. Catch a trophy Bass in our private pond or divide up into teams to play volleyball, horseshoes or even paintball in our large 14 acre paintball park complete with rental equipment and a pro shop. Enjoy our beautiful picnic areas, pavilion, big barn, nice restroom facilities and our Country Kitchen and Country Store. Open to the public seasonally and open by reservation year around for private parties, corporate events, family reunions, weddings, receptions & kids birthday parties. Every season brings something new to the farm. (UPDATED: October 01, 2013, from their website) (UPDATED: December 23, 2011)
Grenada County
Itawamba County
Holley Farm - corn maze, pumpkins, pumpkin patch-pick in the field, pumpkin patch- already gathered from the field, child-sized haybale maze, wagon rides, farm market, gift shop, snacks and refreshment stand, restrooms, picnic area, farm animals, birthday parties, school tours
2318 Patton Flat Road, Fulton, MS 38843. Phone: 662-871-6949. Email: libholley@hotmail.com. Directions: Hwy. 78 East to Belmont/Iuka exit(108), take your left onto highway 25 north, go approx. 3 miles to 4-way stop intersection of highway 25 and highway 178, take your right onto highway 178E, go approximately 3.5 miles until you see Patton Flat road on the left with a sign that says Holley Farm. Turn left here and go 2 miles until you see the Holley Farm signs. And for a map to our farm, click here. Crops are usually available in September, October. Open: Wednesday to Friday, 10 am to 2 pm for school field trips; Saturday open to the public from 10 am until dark. Payment: Cash, Check. (ADDED: September 03, 2008) (UPDATED: December 05, 2008)
Lafayette County
Lee County
Tupelo Buffalo Park and Zoo's Pumpkin Patch - corn maze, pumpkin patch- harvested and laid out on the ground or lawn, Fall festival, cow train / barrel train rides, tractor-pulled hay rides, Honey from hives on the farm, gift shop, concessions / refreshment stand, picnic area, picnic area (bring your own food), face painting, inflatables/bounce house, jumping pillow, ziplines, pony rides, petting zoo, farm animals, birthday parties, school tours, group reservations
2272 North Coley Road, Tupelo, MS 38801. Phone: (662) 844-8709. Fax: 662-844-8850. Email: info@tupelobuffalopark.com. Open: October 1, 2017 am to October 31, 2017 9:00am to 4:00pm Monday - Thursday Friday and Saturday 9;00am to 5:00pm Sunday 11:00am to 4:00pm. Directions: Click here for a map and directions. Payment: Cash, Debit cards, Visa/MasterCard, Discover, AmEx. Click here for our Facebook page. (UPDATED: August 24, 2017)
Leflore County
Marshall County
Wall Hill's 3G Farms - corn maze, pumpkins for sale in the shop or farmstand, pumpkin patch-pick in the field where they grow, pumpkin patch- harvested and laid out on the ground or lawn, train rides, we also have pie pumpkins, tractor-pulled hay rides, wagon rides, haunted rides, haunted trail, Trick-or-treating event, Fall festival, concessions / refreshment stand, porta-potties, picnic area, picnic area (bring your own food), face painting, pony rides, petting zoo, farm animals, birthday parties, school tours, group reservations
627 Wall Hill Rd, Byhalia, MS 38611. Phone: (901) 356-1300. Email: wallhills3gfarms@gmail.com. Open: see our home page. Click here for current open hours, days and dates. Directions: Click here for a map and directions. Payment: Cash, only. Click here for our Facebook page. (ADDED: September 10, 2021)
Monroe County
Montgomery County
Bull Bottom Farms - corn maze, kiddie (mini) corn maze, straw or hay bale maze, cpumpkins for sale in the shop or farmstand, pumpkin patch-pick in the field, Fall festival, cow train rides, hild-sized haybale maze, goat walk, tractor-pulled hay rides, gift shop, concessions / refreshment stand, farm animals, birthday parties, school tours
1641 Sayles Road, Duck Hill, MS 38925. Phone: 615-618-4433. Email: info@bullbottomfarms.com. Open: September 28 am to November 4 weekends; School groups weekday reservations Friday: 5:00 am to 9:00 Saturday: 10:00 am to 9:00 Sunday: 1:00 am to 5:00. Directions: Click here for a map and directions. Payment: Cash, only. Click here for our Facebook page. (ADDED: September 29, 2012)
Panola County
Pontotoc County
Wise Family Farm - corn maze, pumpkin patch-pick in the field, Fall festival, train rides, tractor-pulled hay rides, wagon rides, gift shop, snacks and refreshment stand, restrooms, picnic area, birthday parties, school tours, events at your location (call for info)
291 Shady Grove Road, Pontotoc, MS 38863. Phone: 662-266-0328. Email: swise2@hotmail.com. Open: Friday and Saturday from 10am till 11pm and Sunday from 1pm till 9pm. Directions: From Pontotoc, MS take highway 15 North to Ecru, turn left onto highway 346 go 5 miles and turn right onto Shady Grove Road to Wise Family Farm on the left. Click here for a map and directions. Corn Maze and Pumpkin Patch is open October 1st through October 31st. Payment: Cash, Check. Entertainment each Friday and Saturday Evening starting at 7:00 PM Farm Festival on Saturday October 15 with Entertainment beginning at noon. (ADDED: October 06, 2010)
Prentiss County
Adkins Farms - corn maze, pumpkins, straw or hay bale maze, pumpkin patch-pick in the field, train rides, pumpkin patch- already gathered from the field, child-sized haybale maze, corn cannon, tractor-pulled hay rides, wagon rides, haunted trail, Honey from hives on the farm, gift shop, snacks and refreshment stand, restrooms, picnic area, birthday parties, weddings and wedding parties, school tours
373 highway 364, Booneville, MS 38829. Phone: 662-728-6293. Alternate Phone: 662-790-3726. Fax: 662-720-0994. Email: charlotte@adkinsfarms.com. Open: Closed 2016 due to health issues; we will be back in 2017, see our website for current hours. Directions: Mississippi Highway 45 to Highway 4 and 30 East exit. Go East on Highway 4 and 30 East. At red light go straight, then turn left at next stop sign. This will be Highway 30 East. Go 3 miles on Highway 30 and then take left onto Highway 364. We are located 3.75 miles on right on Highway 364. For a map to our farm, click here. Gourd Festival Saturday, Pumpkin Chunkin Festival Payment: Cash, Check, Debit cards, Visa/MasterCard.Click here for our Facebook page. (UPDATED: October 05, 2016) (UPDATED: April 29, 2009)
Quitman County
Sunflower County
Tallahatchie County
Tate County
Tippah County
Pumpkin Patch Farms - corn maze, pumpkins, straw or hay bale maze, pumpkin patch-pick in the field, train rides, pumpkin patch- already gathered from the field, horse-drawn hay rides, tractor-pulled hay rides, wagon rides, Honey from hives on the farm, prepicked produce, farm market, gift shop, snacks and refreshment stand, restrooms, picnic area, face painting, pony rides, petting zoo, farm animals, birthday parties, weddings and wedding parties, school tours, events at your location (call for info)
2390 Cr 805, Blue Mountain, MS 38610. Phone: 662-685-4328. Email: clay@pumpkinpatchfarms.com. Directions: Click here for a map and directions. Updates: Click here for updates. Crops are usually available in April through October. Open: visit our website for dates and times. Click here for current open hours, days and dates. visit our website for dates on crop harvest times. Payment: Cash, Check. (ADDED: February 22, 2009)
Tishomingo County
Tunica County
Union County
Webster County
Yalobusha County