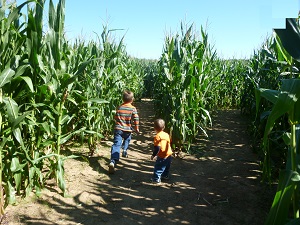 Looking for a local corn maze or hayride in Southern Minneapolis and Southern Suburbs, Minnesota? Scroll down this page and you will see the all of those in Southern Minneapolis and Southern Suburbs, Minnesota, sorted by county. Some are huge corn mazes with hayrides, pumpkins, corn cannons, inflatables and others are simple corn mazes with little else. Most also have loads of pumpkins to choose from. To really make it fun for your kids, look for those that have the extra activities, like a corn cannon, cow train, inflatables, farm animals, pumpkin patch or zip lines. There is usually a small fee for the mazes (of course, the more elaborate mazes tend to charge more. Hayrides are often free. A LWAYS call before you go to confirm whether they are open this year and any requirements, they don't always report changes to me, and many closed permanently due to the covid lockdowns!
And if you know of one I missed and want to add it or correct the information, please let me know!
New! We just went live with our latest website, FunFactoryTours.com - As they name implies, you can find a fun factory tour, including chocolate, automobiles, historical forts and sites, famous buildings, active Federal facilities like dams, a mint, NASA, even fun geology: like fossils and volcanic areas They're fun, inexpensive and educational! And for road trips and camping, see RoadTrippingAndCamping.com
There are affiliate links on this page. Read our disclosure policy to learn more.
Updates for November 2023
November: Corn mazes aren't open until late July or August - Same with Pumpkin patches. And if you are looking for a pumpkin patch, this website for pumpkin patches). You may also want to try the latest fun, Zombie Paintball, see this website!.
Corn mazes, sorted by county
Click on Resources above, if you need a county map
Carver County
Dakota County
Afton Apple Orchards - corn maze, Pick your own apples, fall raspberries and pumpkins, pumpkin patch, hayrides, petting farm, straw mountain, concessions, jam, jelly, cider and other apple time favorites, weddings, school tours
14421 So. 90th St., Hastings, MN 55033. Phone: 651-436-8385. Open: 7 days a week from 10am to 6pm..Directions: From Saint Paul: I94 east to Manning Ave South. Right on Manning 9 miles to 90th St. Turn left on 90th. Go 2 1/2 miles to Afton Apple Orchard on right. Follow signs. or check out our directions page. We have 190+ beautiful acres producing delicious Minnesota grown strawberries, raspberries, pumpkins and 13 different varieties of apples that can be picked by our customers at the peak of perfection. Strawberry season starts approximately the second week in June, and runs through mid-July. We are open Sunday - Wednesday from 7am to 3pm and and Thursday - Sunday 7am to 7pm, weather permitting or until picked out. Always call for an update on picking. Fall Raspberries usually starts early August and goes until mid-October, or until we get a very hard freeze. Our apple orchard is mainly "Pick Your Own" but we do sell freshly picked apples by the peck, 1/2 bushel, and bushel, along with apple cider, honey, jam, maple syrup and other Minnesota grown products. If you like bargains, then come out during the week. It's less crowded and the orchard runs weekday specials. And for great family fun, visit us on the weekends for our hayrides. Throughout our apple season enjoy apple donuts, apple fritters, caramel apples, caramel apple sundaes, hotdogs, chips, soda pop, coffee, hot chocolate and - of course - delicious fresh apple cider all from our concession stand. This huge 15 acre corn maze is calling your name! The maze is divided into 3 phases. Have a wedding, or reception, company event, reunion, retirement party, birthday party, award ceremony, salesperson of the year, finding someone special or getting rid of someone not so special, New Years, or any other get-together in our beautiful building for any special occasion. We can hold up to 300 people inside or many more guests outside. Available are 8' banquet tables, folding chairs, and picnic tables, both inside and outside. We have several options available including tractor drawn hayrides, horse drawn wagon rides, playground, yard games, etc. Click here for a link to our Facebook page. . Also 12 acre Corn Maze, large playground, Our HUGE 15 acre corn maze will be opening in September. There are over 6 miles of twists and turns to boggle both the extra sharp and the directionally challenged minds! Please visit our corn maze page to get the exact hours and other important information about this exciting attraction! Pumpkin picking season starts the last weekend in September and goes through October. We have mini-pumpkins, pie pumpkins, small jack-o-lanterns, medium pumpkins and very large pumpkins. (UPDATED: October 22, 2013, from their website) (ADDED: May 11, 2015, JBS)
Applewood Orchard - apples, hedge maze, hayride
Lakeville, MN. Phone: 952- 985-5425. email: apple@applewoodorchard.com Open: Mid-August to Thanksgiving 9 am to 6 pm or Call for hours, varieties and activities. Welcome to the newest apple orchard in Dakota County. 2003 will be our 5th year in production. Pick 12 varieties of apples on dwarf trees. We have Haralson and Honeycrisp of course! We also hope to have ready a crop of delicious fall raspberries. Come and enjoy a hayride in the orchard, a maze or two for kids of all ages. We are located one quarter mile west of Cedar Ave. on 225th Street W. Come picking at Applewood Orchard. We do offer school, senior center and professional group tours. We are very excited to offer a 10 acre corn maze for your enjoyment. The maze will be open Monday through Saturday from 9-6 and on Sunday from 12-6.
Le Sueur County
Montgomery Orchard - corn maze, PYO apples, restrooms, gift shop, concession stand (drinks, snacks and/or food), picnic area, birthday parties
15953 State Highway 99 (140th St. W) , Montgomery, MN 56069. Phone: 952-221-1051. Email: montgomeryorchard@integra.net . Open: See their website for for hours and availability. Directions: See their website for directions. Payment: Cash, Check, Debit cards, Visa/MasterCard . Our mission is to provide a refreshing and memorable outdoor experience for families, friends and organizations. We hope you will enjoy the peace that comes with the fresh air of a crisp fall day. Scott and his family have now expanded the orchard nearly six-fold, adding on a new segment designated by another letter every year. Aside from Orcharding, the rest of Scott and Barb's farm land is dedicated to the Conservation Reserve Program (CRP) including the growth of various hardwood and evergreen trees and prairie restoration. (UPDATED: October 22, 2013, from their website) (ADDED: April 07, 2011, suggested by a visitor)
McLeod County
Crow River Winery - pumpkins for sale in the shop or farmstand, corn maze, haunted corn maze, gift shop, concessions / refreshment stand, porta-potties, restrooms, picnic area, inflatables/bounce house, birthday parties, weddings and wedding parties, group reservations
14848 Highway 7 East, Hutchinson, MN 55350. Phone: 320-587-2922. Email: info@crowriverwinery.com. Open: Daily from 11 am to 6 pm, September 1 to October 31. Click here for current open hours, days and dates. Directions: Click here for a map and directions. Harvest Moon Maze on September 16; Full Moon Maze on October 14 to 16; Haunted Maze on October 29 to 31;. Payment: Cash, Check, Debit cards, Visa/MasterCard, Discover, AmEx. Click here for our Facebook page. (ADDED: September 08, 2016)
Nicollet County
Ramsey County
Rice County
Nelson's Apple Farm - corn maze, pumpkins, Apples, Wagon rides
3010 Douglas Avenue, Webster, MN 55088. Phone: 952- 461-3355. Email: Appleman121@cs.com.. Open: September 1- Dec 19 from 10 am to 6pm (Monday to Sat), 1-6pm (Sun). Pick your own apples - 20 different varieties! Apple barn open September 1 - Dec 20 with pre-picked apples, cider. Wagon rides (on weekends) , farm animals. PYO pumpkins in October. Corn Maze. Gift Shop. Also balled and burlapped and potted evergreens available spring through fall (please call for appointment in spring and summer). Pre-cut and cut-your-own Christmas trees after Thanksgiving (shorter hours). We're located 1 mile NW of Webster on Cty Rd 86. (UPDATED: October 22, 2013, from their website)
Scott County
Ferguson's Minnesota Harvest Apple Orchard - corn maze, pumpkins, Pick-your-own apples, pumpkins for sale in the shop or farmstand, pumpkin patch-pick in the field, pumpkin patch- already gathered from the field, Fall festival, tractor-pulled hay rides, wagon rides, restrooms, picnic area, weddings and wedding parties
8251 Old Highway 169 Blvd, Jordan, MN 55352. Phone: 952-492-2785. Email: fallharvestorchard@gmail.com. Open: Click here for current open hours, days and dates. Picking updates: Click here for updates. Directions: From the Twin Cities: Highway 169 South through Jordan. First left after Jordan stoplight on County Road 59. First right at stopsign on County Road 66 / Old Hwy. 169. You will see signs and take a left up the hill to the orchard.Click here for a map and directions. Payment: Cash, Check, Visa/MasterCard. Click here for our Facebook page. Also see our PickYourOwn listing and our Christmas listing. (UPDATED: October 22, 2013, from their website) (UPDATED: August 07, 2011)
Ferguson's Orchards Eau Claire - pumpkins, Pick-your-own apples, corn maze, pumpkins for sale in the shop or farmstand, pumpkin patch-pick in the field, pumpkin patch- already gathered from the field, Fall festival, tractor-pulled hay rides, wagon rides, restrooms, picnic area, weddings and wedding parties
6470 Balsam Rd, Eau Claire, WI 54701. Phone: 952-492-2785. Email: fallharvestorchard@gmail.com. Open: Open Aug 19 to Nov 5, 2023, 10am to 6pm Daily. Click here for current open hours, days and dates. Picking updates: Click here for updates. Directions: From the Twin Cities: Highway 169 South through Jordan. First left after Jordan stoplight on County Road 59. First right at stopsign on County Road 66 / Old Hwy. 169. You will see signs and take a left up the hill to the orchard. Click here for a map and directions. Payment: Cash, Check, Visa/MasterCard. Click here for our Facebook page. Also see our PickYourOwn listing and our Christmas listing.
Sever's Corn Maze - corn maze, pig races, corn box, pumpkin cannons, food, tire mountain, petting zoo
3121 150th Street West, Shakopee, MN 55379. Phone: 952-270-6293. Email: info@seversfallfestival.com Open: every Friday, Saturday and Sunday, from September 13th - October 27th and also have updated hours for the 2013 season. We are not a haunted event, but bring a flashlight for fun at night. Directions: Click here for a map! lso see this October 2014 USA Today article, "10Best: Fall Corn Mazes Fun for Families". Activities & attractions besides the corn maze include: jumping pillows, straw bale maze, obstacle course, Safari North exotic petting zoo, wildlife shows, magic shows, pig races, Tire Mountain, zip lines, live music, & many more! Guests can also visit the pick your own pumpkin patch, launch a pumpkin in the pumpkin blasters, zoom down the giant slide, & choose from a wide variety of concessions. (UPDATED: September 22, 2023, JBS)
Washington County
Gilbertson Farms - corn maze, pumpkins, pumpkin patch-pick in the field, pumpkin patch- already gathered from the field, tractor-pulled hay rides, prepicked produce, gift shop, snacks and refreshment stand, farm animals
12791 Oakhill Rd, Scandia, MN 55073. Phone: 651-433-2227. Fax: same. Email: gilbertsongilbey@aol.com. Directions: North From the Twin Cities: Interstate 35 North to highway 97 exit. highway 97 east 11 miles to Oakhill road Go North on Oakhill Road 2 miles. And for a map to our farm, click here. Crops are usually available in May, June, July, August, September, October. Open: Saturday and Sunday 8am to 6pm Open Monday thru Friday 10am to 6pm. Bedding Plants May and June, Fall Mums September and October Sweet Corn harvest Mid July thru September Corn Maze and Fall events open September 6 thru October 31, 2008 October 4, 2008 the Teddy Bear Band is coming; 10:00 am Performance. We minimize use of pesticides and other chemicals. Payment: Cash, Check, Visa/MasterCard, Discover. We do Corn Roasting for all types of events. Contact us for all the details. Fall activities also include peddle go-karts on a dirt track. Children's play area and a Corny Good Time for everyone. (ADDED: September 25, 2008)
Pine Tree Apple Orchard - corn maze, bakery
450 Apple Orchard Road, White Bear Lake, MN 55110. Phone: 651-429-7202. Strawberry Season - Mid-June through Mid-July, PYO Berry Line, 651-429-8026. Pre-picked and Strawberry Bakery. Apple Season is August through February, Weekends in March, Seasonal Hours. See the website for Tours or Schedule of Events or Maps and Directions. During the fall we offer weekend entertainment, pony rides, wagon rides, and a corn maze; pick your own pumpkins, a large variety of apples, homemade bakery products, caramel apples, fresh cider, gifts and more! (UPDATED: May 11, 2015, JBS)
Zywiec's Haunting Experience and Corn Maze - corn maze, pumpkins for sale in the shop or farmstand, Fall festival, haunted house, haunted rides, haunted trail, gift shop, concessions / refreshment stand, porta-potties, birthday parties, school tours
10900 East Point Douglas Road, Cottage Grove, MN 55016. Phone: 651-459-3001. Fax: 651-458-0691. Email: zlgarden@gmail.com. Open: We are open April through December; Hours are seasonal, please check website for up - to - date information. Click here for current open hours, days and dates. Directions: From Interstate 94, take Highway 61 south and go 15 miles. From 494, take Highway 61 south and go 8.5 miles. Our driveway is located on the east side of Highway 61, .5 mile south of Kimbro exit. Click here for a map and directions. Payment: Cash, Check, Debit cards, Visa/MasterCard, Discover. (UPDATED: June 24, 2011)