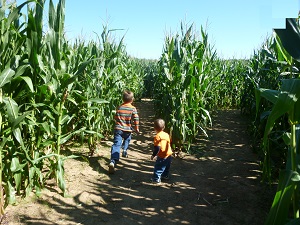 Looking for a local corn maze or hayride in Northern Maine (Aroostock county)? Scroll down this page and you will see the all of those in Northern Maine (Aroostock county), sorted by county. Some are huge corn mazes with hayrides, pumpkins, corn cannons, inflatables and others are simple corn mazes with little else. Most also have loads of pumpkins to choose from. To really make it fun for your kids, look for those that have the extra activities, like a corn cannon, cow train, inflatables, farm animals, pumpkin patch or zip lines. There is usually a small fee for the mazes (of course, the more elaborate mazes tend to charge more. Hayrides are often free. A LWAYS call before you go to confirm whether they are open this year and any requirements, they don't always report changes to me, and many closed permanently due to the covid lockdowns!
And if you know of one I missed and want to add it or correct the information, please let me know!
New! We just went live with our latest website, FunFactoryTours.com - As they name implies, you can find a fun factory tour, including chocolate, automobiles, historical forts and sites, famous buildings, active Federal facilities like dams, a mint, NASA, even fun geology: like fossils and volcanic areas They're fun, inexpensive and educational! And for road trips and camping, see RoadTrippingAndCamping.com
There are affiliate links on this page. Read our disclosure policy to learn more.
Updates for November 2023
November: Corn mazes aren't open until late July or August - Same with Pumpkin patches. And if you are looking for a pumpkin patch, this website for pumpkin patches). You may also want to try the latest fun, Zombie Paintball, see this website!.
Corn mazes, sorted by county
Click on Resources above, if you need a county map
Aroostook County
Goughan's Berry Farm - corn maze, hayrides, pumpkin patch, restrooms, snacks and refreshment stand, picnic area, snacks and refreshment stand, picnic area, picnic area, petting zoo, Christmas trees, maple syrup
875 Fort Fairfield Road, Caribou, ME 04736. Phone: (207) 498-6565. Open: Call for for hours and availability. Directions: Call for directions. Payment: Cash, Check, Debit cards, Visa/MasterCard, Discover, WIC Vouchers . There area two ways in which to meet your pumpkin needs. Make an appointment for a farm scenic hayride to our seven acre pumpkin field where the whole family can walk the fields in search of that Great Pumpkin or you can look through the many pumpkins we have harvested from the field and have on display next to the dairy bar. There are always hundreds of pumpkins to pick through. Pack up the family and walk through our fields to tag your own Christ tree in the Fall and winter!!! You may come back and cut your own or we will cut it for you and have it ready for you to pick up! In the Spring, Maple Syrup is collected from the sugar maple. The sap is being produced in the trees during the summer by the sunlight on the chlorophyll of the leaves, which makes sugar that is stored in the tree and then dissolved by the sap in the Spring. The sap is collected from the trees very slowly. It is made up mostly of water, containing only 2% to 4% sugar. The sap is boiled in an evaporator to eliminate the water. It takes 35 to 40 gallon of sap to make one gallon of syrup. On the average, a maple tree can produce about 8 gallons of sap or approximately one quart of syrup each season. Click here for a link to our Facebook page. (UPDATED: October 2, 2018, JBS) (ADDED: October 07, 2010, suggested by a visitor)
A visitor writes on October 07, 2010: "We LOVED it! and plan on attending again next year. Their corn maze is amazing! It was so much fun with our kids and neighbors. Even the adults had a great time. There were 5 games to play inside of the maze which kept the kids and adults busy. They also have an antique carousel for the kids to ride on and a small area for animals for you to look at and feed. Prices were $7 per person for the maze with ages 5 and under free. You also get a free ice cream at when you're done with maze if you do one of the games. Feeding the sheep was free unless you wanted to feed them grain which was 25 cents for a handful."