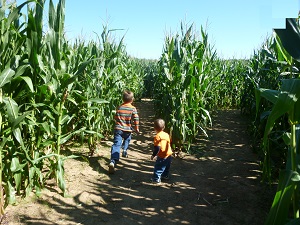 Looking for a local corn maze or hayride in Lexington and North-central Kentucky? Scroll down this page and you will see the all of those in Lexington and North-central Kentucky, sorted by county. Some are huge corn mazes with hayrides, pumpkins, corn cannons, inflatables and others are simple corn mazes with little else. Most also have loads of pumpkins to choose from. To really make it fun for your kids, look for those that have the extra activities, like a corn cannon, cow train, inflatables, farm animals, pumpkin patch or zip lines. There is usually a small fee for the mazes (of course, the more elaborate mazes tend to charge more. Hayrides are often free. A LWAYS call before you go to confirm whether they are open this year and any requirements, they don't always report changes to me, and many closed permanently due to the covid lockdowns!
And if you know of one I missed and want to add it or correct the information, please let me know!
New! We just went live with our latest website, FunFactoryTours.com - As they name implies, you can find a fun factory tour, including chocolate, automobiles, historical forts and sites, famous buildings, active Federal facilities like dams, a mint, NASA, even fun geology: like fossils and volcanic areas They're fun, inexpensive and educational! And for road trips and camping, see RoadTrippingAndCamping.com
There are affiliate links on this page. Read our disclosure policy to learn more.
Updates for November 2023
November: Corn mazes aren't open until late July or August - Same with Pumpkin patches. And if you are looking for a pumpkin patch, this website for pumpkin patches). You may also want to try the latest fun, Zombie Paintball, see this website!.
Corn mazes, sorted by county
Click on Resources above, if you need a county map
Adair County
Anderson County
Bath County
Boone County
Bourbon County
Boyle County
Bracken County
Campbell County
Clark County
Bramble Ridge Orchard - corn maze, Apples, straw or hay bale maze, prepicked produce, gift shop, snacks and refreshment stand, restrooms, tractor-pulled hay rides, wagon rides
2726 Osborne Rd, Mount Sterling, KY 40353. Phone: 859-498-9123. Email us at: appleridge.bellsouth.net. Click here for a map to our farm. Crops are usually available in September, October, November. Open: Monday through Saturday, 9 am until 6 pm. Sunday Noon until 5pm Payment: Cash, Check.
Estill County
Fayette County
Botanica Fall Pumpkin and Mum Harvest - corn maze, pumpkin patch-pick in the field, Fall festival, kiddie (mini) corn maze, we also have pie pumpkins, gift shop, concessions / refreshment stand, porta-potties, picnic area, picnic area (bring your own food), petting zoo, farm animals, birthday parties, school tours, group reservations
6327 Old Richmond Road, Lexington, KY 40515. Phone: 1-859-806-9424. Open: Tuesday to Saturday, from 11am to 6:00 pm; Sunday, 1:00 pm to 6:00 pm; Closed Monday; Corn maze and pumpkins available September 15th through October, 31st. Directions: from Lexington go out Richmond Road to Jacobson Park. Turn right on Old Richmond Road. Go exactly 4 miles and turn left. Click here for a map and directions. Payment: Cash, Check, Visa/MasterCard. Click here for our Facebook page. (ADDED: October 17, 2014)
Kelley Farms -

Uses integrated pest management practices

, corn maze, pumpkins, winter squash, blackberries,
6483 Old Richmond Road, Lexington, KY 40515. Phone: 859-948-8700. Fax: 859-543-9464. Email: lexingtoncornmaze@gmail.com. Open: Wednesdays: 5:00 pm— 10:00 pm Fridays: 5:00 pm— 10:00 pm Saturdays: 11:00 am — 10:00 pm closed Sundays. Directions: from Downtown Lexington Follow East Vine out of town. Turn right onto Richmond Road (U.S. 25 South) and follow for approximately 5 miles. Immediately before the Jacobson Park stoplight, take a slight right onto Old Richmond Road. Follow for 4.4 miles and turn left into Kelley Farms. from the Kentucky Horse Park Take I-75 South and follow for approximately 21 miles. Take Exit 99 and turn left onto Old Richmond Road (U.S. 25). Follow for 4.5 miles and make a right turn into Kelley Farms. Click here for a map and directions. Corn Maze and Fall Festival September 9th - October 30. We use integrated pest management practices. Payment: Cash, Check, Visa/MasterCard. Click here for our Facebook page. (UPDATED: May 21, 2015, JBS) (UPDATED: October 06, 2010)
Fleming County
Franklin County
Gallatin County
Garrard County
Meadow Lake Equestrian Center - corn maze, pumpkin patch-pick in the field, pumpkin patch- already gathered from the field, Fall festival, haunted corn maze, straw or hay bale maze, child-sized haybale maze, tractor-pulled hay rides, porta-potties, pony rides, petting zoo, birthday parties, weddings and wedding parties, school tours
9863 Lexington Rd, Bryantsville, KY 40444. Phone: 859-548-2219. Email: julie@meadowlakeec.com. Open: October 1 to 31
, Times to be determined. Directions: We are conveniently located just 25 miles south of Lexington on highway 27. Meadowlake Equestrian Center is just a brief scenic drive to the world-renowned Kentucky Horse Park, however there are many wonderful historic destinations just a few steps from our door. Click here for a map and directions. Payment: (ADDED: June 02, 2011)
Grant County
Farmer Bill - corn maze, U-pick pumpkins, gourds, cushaws, petting zoo, playground, hayrides, haunted barn, etc.
1790 Baton Rouge Road, Williamstown, KY, 41097. Phone: 859-823-1058. Phone: 859-824-7612. Email: bill@farmerbill.net. Open: June to October; December. For events and times go to website. Directions: From I-75, take Exit #156 (Barns Road). Turn east on Barns Road. Turn left onto Arnie Risen Blvd. Turn left onto Baton Rouge Road. Go 1.7 miles. Market is on the left at Windrift Farms. Local crafts and gifts. Certified kitchen, restrooms. School tours, private parties (birthday, etc.) Farmfest - September thru October:
Harrison County
McDaniel Farm Co - haunted corn maze, concessions / refreshment stand, porta-potties
5139 Highway US 62 West, Cynthiana, KY 41031. Phone: (859)298-5066. Open: Haunted Corn Maze Friday and Saturday, from 7 pm to 1 am in October. Directions: From Georgetown - US 460 Bypass North to US 62 toward Cynthiana - 10 miles on the right From Cynthiana - US 62 toward Georgetown - 4.9 miles from roundabout on the left. Click here for a map and directions. Payment: Cash, only. (ADDED: October 19, 2015)
Jessamine County
Kenton County
Madison County
Marion County
Popes Creek Ranch - corn maze, pumpkins for sale in the shop or farmstand, pumpkin patch-pick in the field,
2250 Popes Creek Road, Lebanon, KY 40033. Phone: 502-330-3027. Email: david@capstoneproducemarket.com. Open: Pumpkin Patch and Corn Maze open Friday 5:00 pm to 10:00 pm, Saturday 10:00 am to 11:00 pm and Sunday 12:00 to 6:00 pm. Directions: Click here for a map and directions. Payment: Cash, Check. (ADDED: September 02, 2013)
Mason County
Mercer County
Devine's Corn Maze & Pumpkin Patch - corn maze, pumpkins for sale in the shop or farmstand, pumpkin patch-pick in the field where they grow, pumpkin patch- harvested and laid out on the ground or lawn, haunted corn maze, kiddie (mini) corn maze, straw or hay bale maze, child-sized haybale maze, wagon rides, Fall festival, farm market, concessions / refreshment stand, porta-potties, picnic area, face painting, jumping pillow, ziplines, trike track, petting zoo, farm animals, birthday parties, school tours, group reservations
623 Talmage-mayo Road, Harrodsburg, KY 40330. Phone: (859) 613-5066. Email: info@devinescornmaze.com. Open: See our website for current days and times. Open: Click here for current open hours, days and dates. Directions: Click here for a map and directions. Payment: Cash, Check, Debit cards, Visa/MasterCard, Discover. Click here for our Facebook page. From September through October, come enjoy getting lost and found in one of three corn mazes covering 10 acres! Lots of fun activities for the young (and young at heart) including a giant slide, hay maze, trike track, petting area, nightly bonfire with free marshmallow roasting, and much more! Wagon ride to the pumpkin patch (pumpkin of your choice is included in admission price), covered picnic pavilion. Extra activities include Zipline Racers and Cornstalk Wars Paintball. (UPDATED: March 03, 2019)
Montgomery County
Nicholas County
Owen County
Pendleton County
Powell County
Robertson County
Scott County
Bi-Water Farm & Greenhouse - corn maze, pumpkins for sale in the shop or farmstand, pumpkin patch-pick in the field, pumpkin patch- already gathered from the field, Fall festival, train rides, straw or hay bale maze, haunted house, gift shop, concessions / refreshment stand, porta-potties, picnic area, petting zoo, farm animals, birthday parties, school tours
877 Cincinnati Road, Georgetown, KY 40324. Phone: 502-863-3676. Email: biwaterfarm@bellsouth.net. Open: Monday - Thursday 9:00 am to 6:00 pm Friday - Saturday 9:00 am to 9:00pm Sunday noon - 7:30 pm. Directions: Located 1 mile north of the Scott County courthouse in Georgetown on US 25. Near Scott County High School. Click here for a map and directions. AutumnFest is September - October 31. Payment: Cash, Check, Debit cards, Visa/MasterCard. Click here for our Facebook page. From our 150,000 square feet of greenhouses, annuals, perennials, hanging baskets, vegetable plants and more. From the farm we have vegetables such as tomatoes, potatoes, sweet corn, watermelons, cantaloupes, peppers, green beans. In the fall there are 25 acres of pumpkins, gourds, corn fodder, straw, corn mazes and more. Family activities such as Spooky Farmhouse, Pirates Cove, Lost Pumpkin Mine, Barnyard Babies, AutumnFest Express and more. (ADDED: January 04, 2009) (UPDATED: February 07, 2012)
Washington County
Woodford County
Boyd Orchards - corn maze, pumpkins for sale in the shop or farmstand, pumpkin patch-pick in the field, pumpkin patch- already gathered from the field, Fall festival, train rides, goat walk, tractor-pulled hay rides, farm market, gift shop, concessions / refreshment stand, restrooms, picnic area, pony rides, petting zoo, farm animals, birthday parties, school tours
1396 Pinckard Pike, Versailles, KY 40383. Phone: 859-873-3097. Email: boydorchards@hotmail.com. Open: September 17, 2011 am to October 31, 2011: Monday - Saturday: 9 am to 7 pm Sunday 12 pm to 7pm. Click here for current open hours, days and dates. Pumpkin updates: Click here for updates. Directions: 3 miles from downtown Versailles, 11 miles from Downtown Lexington. Click here for a map and directions.
Apple Days Festival, September 17 and 18
Scarecrow Festival, September 24 and 25
Ole Cider Days Festival, October 1 and 2
Fall Festival, October 8 and 9
Pumpkin Festival, October 15 and 16
October Festival, October 22 and 23
Harvest Festival, October 29 and 30 A
wesome Playgrounds for the kids! U-Pick Apples and Pumpkins available!. Payment: Cash, Check, Debit cards, Visa/MasterCard, WIC Vouchers. Click here for our Facebook page. Unforgettable Playgrounds and Slides. NEW for 2011: TREE HOUSE!. (UPDATED: May 23, 2015, JBS) (UPDATED: September 01, 2011)
Life Adventure Center of the Bluegrass - corn maze, pumpkin patch- already gathered from the field, Fall festival, straw or hay bale maze, child-sized haybale maze, tractor-pulled hay rides, snacks and refreshment stand, school tours
570 Milner Road, Versailles, KY 40383. Phone: 859-873-3271. Fax: 859-873-2410. Email: info@lacbg.com. Open: Thursday Family Night: 5 pm to 7 pm, Friday: 5 pm to 9 pm, Saturday: 10 am to 9 pm, Sunday: By appointment, Please note that the last person will be allowed in the maze at 'closing time' and have approximately 2 hours to complete the maze. Directions: Directions From Lexington: Versailles Road - Blue Grass Parkway Take first exit and turn right onto Route 33. First stoplight - Left onto Falling Springs Boulevard Second stoplight Left onto Tyrone Pike Pass New Hope Baptist Church on your left, continue 3/10's of a mile and turn Right onto Steele Pike/1685. Take immediate left onto Milner Road. First farm on the right - take second entrance (Gravel Road). Follow for 1 mile back, parking on the left in field. Click here for a map and directions. Kentucky's Largest Corn Maze is located at Life Adventure Center in Versailles, Kentucky! Come visit 15 acres of corn maze fun! Great family fun each weekend on the farm! Educational Field Trips offered to groups of all ages throughout the week by appointment; Save the Date: 3rd Annual Fall on the Farm - September 25, 2010; Pet Daze - October 2, 2010 (leashed pets welcome on this day); UK Day - October 10, 2010; For more information please visit our website See you in the corn!. Payment: Cash, only. No pets allowed except on Pet Daze, October 2, 2010. All children must be accompanied by an adult!. (ADDED: June 23, 2010)