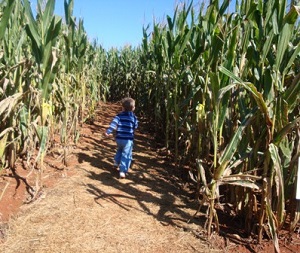 Looking for a local corn maze or hayride in Southern tip of Texas? Scroll down this page and you will see the all of thoses in Southern tip of Texas, sorted by county. Some are huge corn mazes with hayrides, pumpkins, corn cannons, inflatables and others are simple corn mazes with little else. Most also have loads of pumpkins to choose from. To really make it fun for your kids, look for those that have the extra activities, like a corn cannon, cow train, inflatables, farm animals, pumpkin patch or zip lines. There is usually a small fee for the mazes (of course, the more elaborate mazes tend to charge more. Hayrides are often free. ALWAYS call before you go to confirm the info, they don't always report changes to me!
Especially this year, due to Coronavirus, be sure to click on the links to confirm this year's dates and activities; many have cut back on activities. Corn mazes tend to be open, pumpkins are usually for sale. Mostly, it is things like festivals, inflatables and groups activities that are restricted in 2020. If they don't have a website or Facebook page, call email them directly or call the phone number provided, but ALWAYS CONFIRM THIS YEAR'S DATES AND TIMES BY BEFORE YOU GO.
And if you know of one I missed and want to add it or correct the information, please let me know! There are affiliate links on this page. Read our disclosure policy to learn more.
Updates for February 2023
February: Many corn mazes are open now, just scroll down the page. And if you are looking for a pumpkin patch, this website for pumpkin patches). You may also want to try the latest fun, Zombie Paintball, see this website!.
Corn mazes, sorted by county
Click on Resources above, if you need a county map
Cameron County
Dimmit County
Duval County
Hidalgo County
Donna's Corn Maze at Billman Farms - corn maze
Expressway 83 and Valley View Rd, Donna, TX, 78539. Phone: 956-239-4504. Email us at: DonnasCornMaze@AOL.com . Directions: Donna's Corn Maze is located off Expressway 83 in Donna TX. If you're coming from McAllen TX, take the Hutto Road exit; go under the overpass as if you are heading back to McAllen. Turn right on Valley View Road right before you reach Rivera's Machinery. Drive about 10 seconds and you cant miss us! Click here for a map. 2007 pricing. See this page for the most current prices. Admission:$10.00 (children or adult); Stroller Babies are FREE. Grandparents over 65 are FREE with a child's ticket. Unborn children are free, too. (Pregnant women always save money at Donna's Corn Maze). We also host birthday parties. Call us and set it up today (956)239-4504.
A visitor writes on October 17, 2010: "Fees are $10 for both children AND adults. I called ahead of time to get 1st time pointers & they failed to tell me that they are a cash-only facility (no checks or credit cards are accepted). There is an ATM machine on site, but you end up paying additional fees. I was also told that no outside food/beverages were allowed in. Their food & drinks have to be purchased with tickets sold within the maze, and their prices are way too high. I recommend that you eat prior or after visiting the maze so that you can get your money's worth. All the activities were fun & entertaining for the children and our kids did have a good time. Our visit to this maze lasted about two hours."
Jim Hogg County
Jim Wells County
Kenedy County
Kleberg County
La Salle County
Maverick County
Starr County
Webb County
Zapata County